HP assembling All-in-One PCs in St Petersburg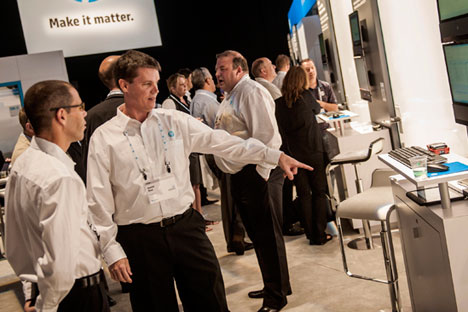 Attendees speak during the HP Discover 2013 conference in Las Vegas, Nevada, U.S., on Tuesday, June 11, 2013. Source: Jacob Kepler/Bloomberg via Getty Images
The imposition of import duties on desktop computers has forced Hewlett-Packard to start assembling All-in-One PCs at the Foxconn factory near the northern capital.
The Foxconn factory near St. Petersburg has begun production of Hewlett-Packard (HP) All-in-One PCs, an HP representative told Vedomosti. The All-in-One PC is a type of computer in which the monitor is united with the processor, motherboard, hard drive and other components.
In early 2013, Russia imposed 10-percent import duties on desktop PCs and monoblocks, which resulted in a price increase in the market, explains Konstantin Kimelman, PC Category Country Manager in Russia.
Launching production in Russia reduces the dependence of prices on currency exchange rates, shortens delivery periods by 2-3 times, and makes the computers more accessible for public institutions that are required to purchase equipment produced domestically.
Foxconn is a long-time partner of HP, and it has been assembling HP desktop computers in the very same factory near St. Petersburg for more than three years.
The company spent nearly $50 million on the purchase of land and on construction of the factory itself; it was planning to spend another $15-20 million on purchasing equipment and launching production.
Launching the production of monoblocks does not require large investments. Expenditures will be associated primarily with the training of personnel, thinks a former Foxconn employee.
A representative of the American company says that HP and Foxconn also plan to expand the volume of manufacture of new models slated for Russian assembly.
Foxconn is capable of producing up to 900,000 HP computers a year, the source adds. In the last fiscal year (ending Oct. 31, 2012), the factory produced 264,000 units.
The monoblock is becoming increasingly popular. They are more compact than usual computers and cheaper to maintain, says Gleb Mishin, general manager of Lenovo in Russia, the CIS and Eastern Europe. Lenovo already sells monoblocks in Russia, and its fall ad campaign is going to focus on these very computers.
In Mishin's evaluation, monoblocks currently make up 15-20 percent of all desktop computers. Based on the information of Gartner, 900,000 desktop computers were sold in Russia during the second quarter of 2013.
Mishin is certain that producing computers in Russia is, at any rate, unprofitable. It is only possible to save money on duties; however, in accordance with the demands of the WTO, they are already set be lowered (from 10 percent to 5 percent in 2014) and, ultimately, completely canceled.
In every other aspect, the cost of production in Russia is higher than in China—many components are imported from there. For example, the level of Russian localization of monoblocks does not exceed 5-6 percent, believes Mishin.
Sergey Eskin, general director of the Russian computer assembly company Depo Computers, agrees that one could never call Russian production cheap, as components are not manufactured in Russia.
Even so, it is possible to reduce the time it takes to deliver the product to the client. In addition, monoblocks are popular in the state sector: It is easier to describe them in the purchasing documents in such a way that the only contender remains in the bid, says Eskin.
First published in Russian in Vedomosti.
All rights reserved by Rossiyskaya Gazeta.