Russia powering India's ambitious nuclear energy plans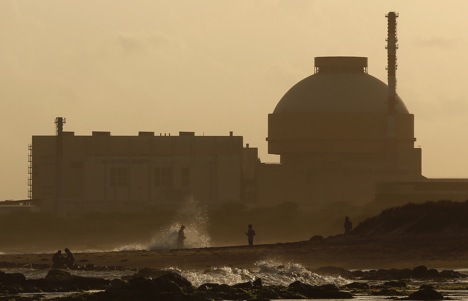 Russia is the only foreign country building a nuclear power plant (KNPP) in India at the moment. Source: Reuters
Including Kudankulam's third and fourth units, India is planning to build a total of 19 nuclear reactors with an aggregate capacity of 17,400 megawatts.
Russia is powering India's use of nuclear energy for peaceful purposes by being the foreign pioneer in the industry. Talks on Kudankulam Nuclear Power Plant's (KNPP) third and fourth unit are believed to be in an advanced stage. In total, India plans to build 19 nuclear power reactors with an aggregate capacity of 17,400 megawatts (MW) by 2017. Eight of these units will be built with the participation of foreign countries including Russia, a source close to the Nuclear Power Corporation of India told Itar-Tass on Tuesday.
Along with the third and fourth units (with a capacity of 1000 MW each) at Kudankulam in Tamil Nadu, India is also looking to build a plant in Gujarat with two units of 1,100 MW capacity with the participation of the United States and Japan and a plant in Kovvada in Andhra Pradesh with two units of 1,500 MW each.
Another project that India is keen on is the French-designed nuclear power plant in Jaitapur, Maharashtra, which would have the two largest units in the country with a capacity of 1,650 MW each. This proposed plant has been met with stiff resistance from farmers and environmentalists in India's Konkan Region.
There are several factors that don't bode well for Indian international cooperation in the peaceful use of nuclear energy, including India's civil nuclear liability law. The Civil Liability for Nuclear Damage Act allows the nuclear operator the right to demand compensation from a supplier in case faulty equipment causes an accident at a nuclear power plant. The bilateral agreement on KNPP's units 1 and 2 puts the onus of any liability on the operator and there is no provision in it for recourse to suppliers.
Russia is the only foreign country building a nuclear power plant in India at the moment. The first unit of the KNPP has entered criticality with southern Indian states expected to receive electricity soon and the construction work on the second power unit is also making steady progress.
The contract for the designing and construction of the third and fourth KNPP units is about to be completed with talks on a general framework agreement at the final stage. Moscow has insisted that the units either be excluded from India's civil nuclear liability law or that New Delhi pays a higher price. The Indian Government gave its approval to build the two additional 1000 mw units at Kudankulam in March. A final agreement is expected to be reached when Indian Prime Minister Manmohan Singh visits Moscow for the annual Indo-Russian summit later this year.
Based on materials first published in Russian by Itar-Tass.
All rights reserved by Rossiyskaya Gazeta.