Russian winemakers seek protectionist measures from government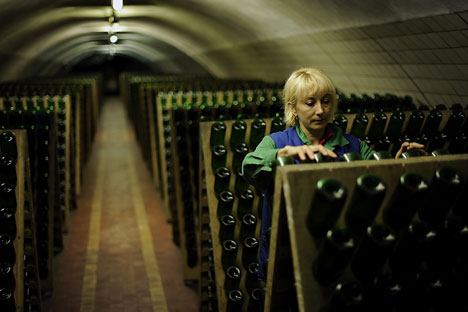 Russian winemakers believe that wine from natural grapes might contribute to "de-alcoholization of society," if it can crowd out the stronger drinks. Source: Mikhail Mordasov
Local winemakers vow to oust foreign competitors if the authorities change the anti-alcohol laws in their favor.
In September, the Union of Winegrowers and Winemakers of Russia intends to submit to the State Duma a group of amendments to federal laws that will help domestic producers oust foreign competitors.
The changes should simplify the process of obtaining licenses, increase the number of integrated enterprises that grow and process grapes and make wine, and should affect the prices, reported Rossiyskaya Gazeta.
There are regions in Russia with the right conditions for cultivating grapes. However, startup is more difficult, say representatives of the industry's organization, who are confident that a good natural wine from Russian grapes could easily cost no more than 150–200 rubles ($4.50–$6.00).
In the meantime, shelves are full of mostly expensive imported wine, and the consumer usually ends up reaching for vodka for a "cheap and dirty" drink. Meanwhile, winemakers believe that wine from natural grapes might contribute to "de-alcoholization of society," if it can crowd out the stronger drinks.
To do this, in their opinion, there should be more talk about domestic vineyards and more advertising for wine made from Russian grapes.
In addition, according to winemakers, Federal Law 171, which regulates the production and sales of alcohol, was written for those who make vodka. Its rules are too strict and not always applicable for wine producers.
Moreover, most wine in Russia is produced at facilities located in rural areas. There it is hard to find specialists that are experienced in preparing the documentation needed to comply with the complex requirements of the law.
Another problem, according to wine lobbyists, is the cost of obtaining a permit, for which certificates are needed from the fire department, health inspectors and ecologists. As soon as a company starts to request these certificates, inspectors come immediately and always find violations that must be remedied.
The union calculated that a person needs at least 100 hectares (250 acres) of vineyards just to recoup the cost of obtaining a winemakers' permit. In Europe and the U.S., wine can be legally produced with just 5–6 hectares (12–15 acres).
The Union of Winegrowers and Winemakers also hopes that it will soon be legal in Russia to advertise wine produced in the country from domestic grapes. Still, Leonid Popovich, the chairman of the Union of Winegrowers and Winemakers of Russia, admits that only one-fifth of Russian winemakers use raw materials exclusively from Russia.
Russian Alcohol Regulators and the Federal Antimonopoly Service, according to representatives of the organizations, are developing the necessary amendments, which should take effect before the end of 2015. The authors of these amendments hope these measures will increase the competitiveness of Russian winemakers.
First puiblished in Russian in Rossiyskaya Gazeta.
All rights reserved by Rossiyskaya Gazeta.