Uralkali ownership rumours send global prices on rollercoaster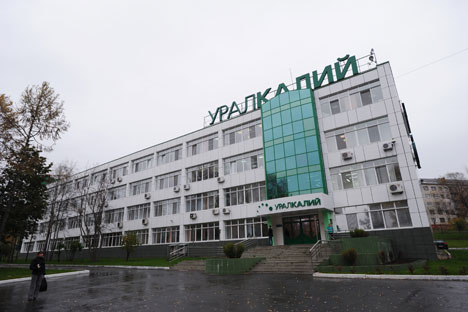 Uralkali is now in talks to sell to China at $325 per tonne and to India for slightly higher prices. Source: Pavel Lisitsyn / Ria Novosti
The latest twist in the story surrounding Uralkali, the world's largest potash producer, has led to a spike in fertilizer prices worldwide and sparked speculation that the company can recreate their alliance with Belaruskali.
Last week it was reported that Suleiman Kerimov, who is the 19th richest businessman in Russia, and is famous mostly thanks to his generous funding of the Dagestan Anzhi football club, is selling his 21.75 percent stake in Uralkali. As a result, the shares of several North American and European potash producers have risen sharply amid speculation that the sale of shares may be the beginning of a reunion with Belarus's Belaruskali.
Before the partnership broke up in July, the two companies controlled 40 percent of the world production of potash.
The Russian state-owned oil company Rosneft, which has the largest oil reserves in the world, and a former official and banker close to Vladimir Putin, Vladimir Kogan, were named among the potential buyers of Kerimov's stake in Uralkali. The head of Uralkali, Vladislav Baumgertner, was taken into custody on August 26 in Belarus, allegedly for political reasons. According to rumours, Baumgertner may be released after the transaction is completed.
"It's a bit of a soap opera that's going to take some time to play out," Paradigm Capital analyst Spencer Churchill told Reuters.
Why are we fighting?
The Russian-Belarusian potash war began in late July, when Uralkali announced it was pulling out of a partnership with Belaruskali, and, in particular, terminating joint sales of fertilizer through the Belarusian Potash Company (BPC).
Then the whole marketing strategy of Uralkali completely changed. Previously, the company exported fertilizer on the principle of "price before volume" and preferred to reduce production volumes rather than give consumers a discount. Now, Uralkali announced it will increase production capacity to 100 percent and predicted world prices will fall to $300 per tonne, which is almost $100 less than the price at the end of July.
Adding fuel to the fire, almost immediately after announcing the cut off in trade relations with Belarus, the company signed a contract to supply China with 500 tonnes of potassium by the end of the year. Considering Belaruskali is one of the main sources of revenue for Belarus, there is a real problem now.
First victories
The market has already reacted to Uralkali's walk out. According to Reuters, which cites sources in the Indian government, "all potash suppliers agreed to give discounts on the current contracts." In Brazil, one of the largest segments of the potash market, spot prices have collapsed from $450 to $370 per tonne, and as noted by Reuters, they are waiting for prices to drop further. "Chinese importers have Canpotex by the throat, hoping to knock them down to $320 per tonne," confirm analysts from the agency. "Importers in Malaysia and Indonesia are watching the developments in China and hope to get about $330-340 per tonne, when they were at $400-420 before the BPC collapsed."
According to Kommersant sources, Uralkali is now in talks to sell to China at $325 per tonne and to India for slightly higher prices. But if this level seems to be quite acceptable for Uralkali with its low production costs, for a number of European players, as well as Belaruskali, who has a higher cost of production, it is already close to an unsustainable price.
Unexpected outcome
At the end of August in Minsk, Vladislav Baumgertner, general director of Uralkali, was detained and arrested as he arrived in Belarus ostensibly for talks at the personal invitation of Prime Minister of Belarus Mikhail Myasnikovich. The Investigative Committee of Belarus charged him with abuse of power (Baumgertner heads the supervisory board of BPC). Minsk also issued a formal criminal complaint against Suleiman Kerimov and four other Uralkali senior executives, requesting that Interpol put them all on the wanted list (which has not yet been done).
After that, the local potash war rose to the political level, and suddenly began developing unfavourably for Uralkali. A number of Russian officials and businessmen, including former deputy prime minister and head of Rosneft, Igor Sechin, and the head of Sberbank, German Gref, visited Minsk to support this strategic ally of Russia. If Kerimov sells his shares of Uralkali, this may reunite the company with Belaruskali and this would mean a partial return to the old strategy.
Analysts see this as a real possibility. Sergei Filchenkov of Metropol investment company notes that if Uralkali and Belaruskali have to go back to their old partnership, the Russian company will once again be forced to revise its strategy and to reduce its production levels. Konstantin Yuminov of Raiffeisenbank agrees, noting that the new investor "will be more open to a constructive dialogue with Belarus." However, Narek Avakian from Aforex financial company believes that the former partners will find it difficult to return to a partnership with the same scope and depth.
Based on articles on Kommersant and The Moscow Times.
All rights reserved by Rossiyskaya Gazeta.