Indian Navy close to floating $8 bn tenders for 6 submarines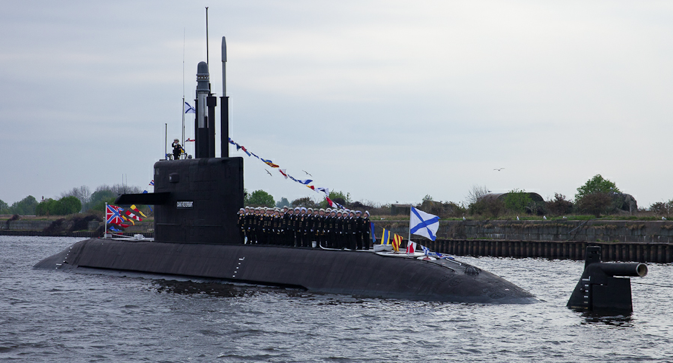 Russia is the world's leading submarines exporter having exported 168 submarines to well over a dozen countries in past fifty years and thus a top contender for the upcoming Indian order. Source: Ministry of Defence of the Russian Federation / mil.ru
Russian companies can forge tie-ups with Indian PSUs and private companies for construction of four submarines in India and sources say New Delhi is likely to encourage this.
The Indian Navy is just one step away from issuing a global tender worth almost eight billion dollars for six conventional stealth submarines. Russia is among the four countries which are in a vantage position in bagging the upcoming contracts, the other countries being France, Sweden and Germany, though not necessarily in that order.
Indian Navy's Vice Chief, Vice Admiral R K Dhowan, said at a press conference in New Delhi on Monday, September 16 that the navy's proposal for having six hi-tech submarines will be soon placed before India's apex decision-making body on defence and strategic matters the Cabinet Committee on Security (CCS).
Vice Admiral Dhowan informed that the Defence Acquisition Council (DAC), headed by Defence Minister A K Antony, had given its approval for the proposal to be taken up before the CCS and the global tender will be issued after the CCS nod comes. The navy vice chief said the tender would be worth Rs 50,000 crore, which is about $7.92 billion at today's exchange rates.
Sources said the CCS may meet "very soon", perhaps before Prime Minister Manmohan Singh, who heads the CCS, leaves for his week-long trip to the United States on September 25.
Details of the Indian Navy's Proposal
The Indian Navy plans a unique 2+2+2 format for adding the proposed six submarines to its fleet. Sources said the prevailing thought in the Indian Navy is to go for outright purchase of two submarines from abroad and order two submarines each for Indian public sector and private sector companies.
Russia is the world's leading submarines exporter having exported 168 submarines to well over a dozen countries in past fifty years and thus a top contender for the upcoming Indian order.
Moreover, sources said Russia was well qualified to have stakes in the entire 2+2+2 format. Russian companies can forge tie-ups with Indian PSUs and private companies for construction of four submarines in India and New Delhi is likely to encourage that.
Vice Admiral Dhowan put this point in perspective with a pithy remark: "Navy is poised for growth... over the next decade, we plan to induct at least four to five major combatants (warships and frigates) every year. This provides an ideal opportunity for Indian shipyards and industry to enter into collaborative arrangements or joint ventures."' Dhowan elaborated that 46 warships and submarines are currently under construction in Indian shipyards.
India has of late started laying stress on indigenization but considering that neither the public sector nor the private sector companies are technically competent to build hi-tech submarines on their own, New Delhi has been giving a free hand to these companies to enter into collaboration with foreign companies. Russian companies must be well aware of this and should be on the job.
Two more reasons to cheer for Russia
Then there are two more reasons to cheer for the Russian companies to scour the Indian naval market which Vice Admiral Dhowan briefly referred to but stopped short of giving details.
One, he said in the wake of virtual destruction of INS Sindhurakshak submarine in devastating explosions on August 14, the Indian Navy was actively considering a refit and repair of its existing fleet of conventional submarines.
The Indian Navy currently has 13 operational submarines, nine of which are of Russian origin. Since these Kilo-class submarines were first inducted into the Indian Navy well over a quarter century ago and most of them have already served their effective life of 20 years, their refit and repair is long overdue.
It is a low hanging fruit for Russia as India would naturally go to Russia directly for an upgrade of these boats.
The mid-life retrofitting of these submarines would extend their life by at least ten to twelve years and would enhance their firepower too. Like Sindhurakshak, India would like the remaining Kilo-class submarines also to be fitted with modern missiles, navigational aids and sonar systems.
But this would be an expensive affair, considering that the Sindhurakshak upgrade had cost India $600 million, almost the cost of a new submarine.
India has already discussed the issue with the Russians but the matter can be clinched only after technical experts are through with tedious and complex negotiations.
Another cause for cheer for Russian companies is that the Indian Navy would be looking to foreign markets for upgrading its naval systems. Vice Admiral Dhowan mentioned two formidable roadblocks before India's indigenization and self-reliance goals in the defence sector: the lack of Indian indigenous capability to manufacture weapons and sensors.
This is another clue for the Russian companies to tap the Indian defence market.
The writer is a New Delhi-based journalist. His Twitter handle is @Kishkindha.
All rights reserved by Rossiyskaya Gazeta.