14th Indo-Russian annual summit to be held in Moscow on October 21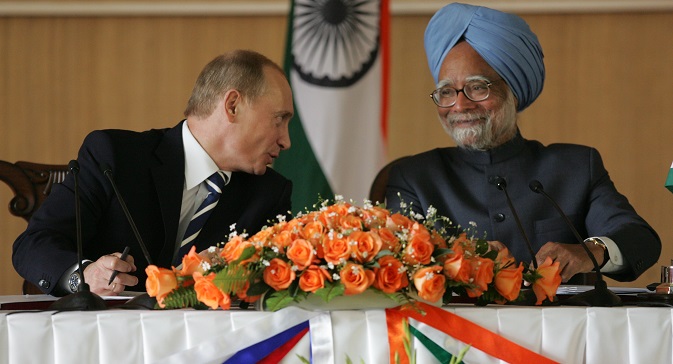 Apart from having comprehensive delegation-level talks, Singh and Putin are also expected to hold a restricted meeting where only a select few officials from either side will be present. Source: Konstantin Zavarzhin / RG
The two sides are also expected to sign several multi-billion dollar deals, particularly in the fields of defence and energy.
The 14th India-Russia annual summit will be held in Moscow on October 21. Indian Prime Minister Manmohan Singh will arrive in the Russian capital on October 20 and will hold substantive talks with Russian President Vladimir Putin on bilateral, regional and international issues of primary interest to the two sides.
At least half a dozen agreements are expected to be signed during the upcoming summit. Sources said the two sides are expected to sign several multi-billion dollar deals, particularly in the fields of defence and energy.
The ongoing technical-level talks on 3rd and 4th units of Kudankulam Nuclear Power Plant (KNPP) in the southern Indian state of Tamil Nadu have progressed satisfactorily. The Indian side is believed to be ready for spending $5 billion for the two units to be built with Russian assistance. KNPP is expected to figure prominently in the Putin-Singh talks.
A plateful of agenda
Apart from having comprehensive delegation-level talks, Singh and Putin are also expected to hold a restricted meeting where only a select few officials from either side will be present. If the restricted meeting makes headway, the two leaders may also hold one-to-one talks.
The agenda for the delegation-level talks is packed with issues pertaining to defence, space, science and technology, energy, trade and investment. Now that the INS Vikramaditya issue is almost sorted out and the aircraft carrier, earlier named as Admiral Gorshkov, is due to be delivered to India in middle of November, the two leaders will be keen on discussing their defence partnership to loftier heights.
Putin is said to be keen on conveying to the Indians that chronic delays that have bedeviled the Indo-Russian relations in recent years, will be a thing of past and Russia will scrupulously honour all deadlines in future. The Russian delays are exemplified by the INS Vikramaditya saga as the aircraft carrier's delivery is already delayed by five years.
OVL-Imperial Energy tangle
Another issue which will be high on Manmohan Singh's agenda during his talks with Putin pertains to the OVL-Imperial Energy tangle.
ONGC Videsh Ltd (OVL) had acquired Imperial Energy, an independent oil explorer that has its main assets in the Tomsk region of Western Siberia, in January 2009 for $ 2.1 billion. It has thus far proven to be a bad investment for ONGC as Imperal's oilfields produced a paltry 12,000 barrels per day (bpd) last fiscal, well below the initial estimate of 80,000 bpd, and drew the flak of the Comptroller and Auditor General of India.
Russia holds the key to make this Indian investment profitable but the recent setback to Russian telecom company Sistema in India is likely to impact ONGC's operations in Russia. This is because Sistema and ONGC signed a strategic partnership agreement way back in December 2009 with an idea that the ONGC will invest in Sistema's assets and swap that for Imperial assets.
However, the plan could not materialize. India's constant pleadings with the Russians to delink the Sistema issue from OVL's Imperial issue have failed to yield a breakthrough. India wants Russia to grant it a tax holiday to OVL which will exempt the Indian company from paying 35 percent mineral extraction and 50 percent corporate tax.
Manmohan Singh will take up this issue with Putin and seek his personal intervention in the matter. The hope in the Indian camp is that considering the extremely close political ties between the two countries and in the long-term interests, Putin may oblige India.
The Two IRGC Meetings
Besides, two more high level Indo-Russian bilateral meetings will take place in Moscow next month which will set the stage for the 14th annual summit. External Affairs Minister Salman Khurshid will be in Moscow on October 2 for co-chairing a meeting of India-Russia Inter-Governmental Commission on Trade, Economic, Scientific, Technological and Cultural Cooperation (IRIGC-TEC) along with his Russian counterpart.
About ten days later, another IRGC meeting on Military Technical Cooperation (IRGC-MTC) will be held in Moscow which will be co-chaired by the two defence ministers. The dates of this meeting are yet to be firmed up.
A vast array of defence cooperation issues are going to be discussed at the IRGC-MTC meeting, which will include India's plans to take a second nuclear submarine on lease from Russia. The INS Sindhurakshak issue will also come up for discussions at this stage, though it is unclear whether the Indians will raise the warranty issue. The submarine, which sunk after a series of explosions and a devastating fire in Mumbai naval dockyard on August 14, is under warranty period till January 2014.
The two sides have consciously scheduled the two IRGC meetings close to the 14th annual summit so that Putin and Singh can formally approve the issues clinched at the two IRGC meetings.
Trade
Last but not the least; the two principals will be reviewing measures to give a fillip to the Indo-Russian trade which is well below its actual potential. The bilateral trade is currently pegged at $11 billion. The two sides have pledged to raise it to $ 20 billion by 2015.
The two leaders' discussions on trade are likely to veer around how to involve the private sector companies in trade and investment which has not happened so far, an Indian diplomat familiar with the issue said.
The writer is a New Delhi-based journalist. His Twitter handle is @Kishkindha.
All rights reserved by Rossiyskaya Gazeta.