Russia "capable and willing" to help India achieve self reliance in defence - Viktor Komardin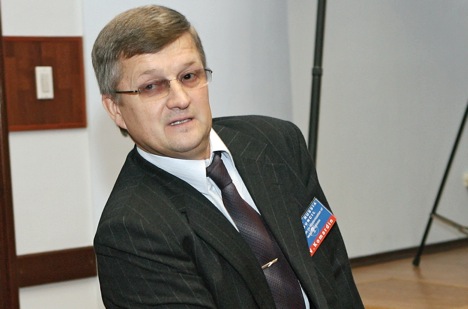 Viktor Komardin, General Director of Rosoboronexport. Source: RIA Novosti
The deputy director general of Rosoboronexport tells The Hindu that Russia could extend all support to help India meet its indigenisation goals.
The long-established defence ties between Russia and India will not be affected by India's new defence procurement policy and procedure, Victor Komardin, Deputy Director General of Russian defence export agency Rosoboronexport, told The Hindu in an interview.
India promulgated a new Defence Procurement Procedure 2013 with effect from June 1, 2013. The policy is aimed at laying a strong emphasis on promoting indigenisation and creating a level playing field for the Indian Industry.
Russia is "capable and willing" to extend all support to India in fulfilling its goal of self-reliance, Komardin, who is in Kochi for NAMEXPO-2013 told the paper.
The new Indian policy explicitly accords a higher preference to the Buy (Indian), Buy and Make (Indian) and Make categorisation, besides bringing further clarity in the definition of the 'Indigenous Content' and simplifying the Buy and Make (Indian) process.
"Of the 47 ships under construction for the Indian Navy at the moment, the only one constructed outside the country [INS Vikramaditya] is done by us," Komardin told The Hindu. "We've just done three frigates for the Indian Navy. We are the only country that has built submarines for them …. After DPP-2013 was released, many private Indian shipyards came to us for cooperation. All that is needed now is to finalise specific, concrete projects. We are prepared, technically."
INS Sindhurakshak tragedy
India has the "moral and ethical responsibility" to find out what caused the INS Sindhurakshak accident, Komardin was cited by the paper as saying. "If it doesn't have anything to do with manufacture or design, we may not be interested to know," he told the paper, adding that it would be "improper" for Russia to demand information on the incident.
An Indian naval board of enquiry has yet to reach a conclusion on the cause of the accident that led to the sinking of the Sindhurakshak. Russia has offered to cooperate and assist in the Indian Navy's investigations.
Komardin told the paper that Russia was in a position to ensure fast delivery of its Amur-class submarines for India's Project 75-I, under which the Indian Navy would order a new line of six submarines with air independent propulsion capability. If India wanted to integrate something like the BrahMos cruise missile or the underdevelopment air independent propulsion, it was also possible, Komardin told the paper adding that it would then take time to get operational.
All rights reserved by Rossiyskaya Gazeta.