"Looking for Project 75-I to have vertical launched BrahMos missiles"- Sivathanu Pillai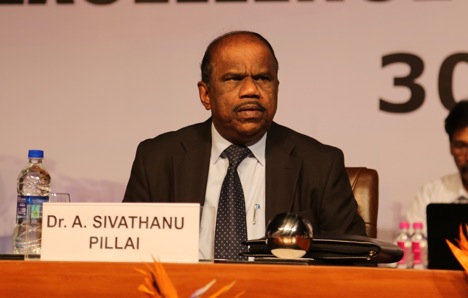 Sivathanu Pillai at NAMEXPO-2013 in Kochi. Source: Alexander Tomas
On the sidelines of NAMEXPO-2013, Sivathanu Pillai, chief executive and managing director of BrahMos Aerospace spoke to RIR about a submarine version of the Indo-Russian supersonic missiles.
When is BrahMos Aerospace planning the next trials of its submarine version missile?
The BrahMos universal missile system has successfully validated its underwater launch capabilities following its test firing from a submerged platform in the Bay of Bengal off the coast of Visakhapatnam on March 20, 2013. Vertically emerging from its submerged canister, the supersonic cruise missile turned towards the designated target and attained its full range of 290-km meeting all mission objectives during the test firing.
The successful trial of BrahMos has completely proved the missile capabilities for underwater launch and is ready for fitment in submarine. No further test is required from Pontoon as the missile has been configured uniquely as a universal system for land, sea and sub-sea. All the systems have been repeatedly demonstrated for their performance and reliability. We are now looking for Project 75-I, which will become the most powerful submarine, to have both vertical launched BrahMos for the sea & land target and tube-launched torpedoes for anti-submarine warfare.
Moreover in salvo, each missile can be fired at a 3.5 second interval to different directions making the platform highly prospective, integrating the AIP and BrahMos missile system without reducing the performance of the submarine. Project 75 I will be the best in its class.
When do you expect this missile to be inducted?
BrahMos team works with the armed forces in close partnership to make things happen either on time or ahead of schedule. Hence the decision is made by the government, when we will be in a position to install the system.
What about the BrahMos M (mini) missile now? When are you planning to have the first trial?
When we are studying integration of BrahMos in many platforms, we are facing the difficulty with the weight of the missile to fit it in different operational platforms which are available with IAF. Hence there is a requirement to reduce the weight of the missile. The reduced weight BrahMos missile is called BrahMos M (mini). After completing the initial configuration studies and the basic design the development will start.
Source: Alexander Tomas
Are the current works going on schedule now?
We are in the starting stage and we need to have several experiments and studies to be carried out before we come to the actual system.
When would the missile be ready for the induction?
As the project is at its initial stage, it would be difficult to predict it but we are expecting its induction somewhere around 2017.
All rights reserved by Rossiyskaya Gazeta.