Kamaz wants to use India's Soviet debt to finance JV's sales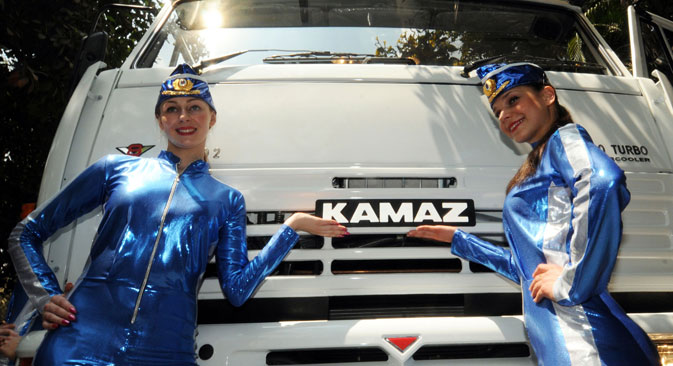 In February 2010, Kamaz opened an assembly line in India at the Kamaz Vectra Motors Limited (KVML), a joint venture with the Vectra group. Source: Itar-Tass
The Russian auto manufacturer has proposed allocating $100 million of the debt to set up a company to finance the sale of its trucks in India.
ОАО Kamaz would like to use India's rupee-denominated debt to Russia to promote the sales of trucks made by its assembly plant in Tamil Nadu, a Kamaz official told RIR on Friday, confirming a report that was published earlier by Vedomosti.
The auto manufacturer has proposed allocating $100 million of the debt to set up a specialised state-owned finance company to provide loans to buyers of Kamaz trucks in India, Vedomosti said citing Interfax. "Work on this possibility started in April 2013," the Kamaz official told RIR.
Kamaz says almost 90 percent of sales in the industry in India are financed and virtually all foreign auto manufacturers provide financing to their customers through specialised finance divisions. According to Russian-state corporation Rostec, which owns a 49.9 percent stake in Kamaz, the finance company "would help put to use the state debt funds kept in India's Reserve Bank, which are depreciating by 9 percent annually through inflation, and gradually repatriate the investment to Russia through dividends."
India's rupee-denominated debt comprises mainly of the outstanding defense and civilian state credits that were extended to the country by the Soviet Union. Under this agreement, India annually paid about $1 billion equivalent in rupees to Russia until 2005 and now smaller amounts are being paid until 2038.
The rupee debt funds are maintained in a central account with the Reserve Bank of India and are to be used by the Russian companies for import of goods and trade-related services from India while Russian exports to India are against completely convertible currencies. Indian exporters and Russian importers have been losing interest in this financing tool as the markets have evolved since 1993, as a result a large portion of the funds in the account remain unutilised.
Kamaz in India
In February 2010, Kamaz opened an assembly line in India at the Kamaz Vectra Motors Limited (KVML), a joint venture with the Vectra group. The JV, which is 51 percent owned by Kamaz, assembles several models of construction dump trucks based on the Kamaz 6540 chassis, as well as the Kamaz 5460 semi. The JV is looking at manufacturing 5,000 trucks annually.
Read the Vedomosti report (in Russian).
All rights reserved by Rossiyskaya Gazeta.