Energy a major component of Indo-Russian summit in Moscow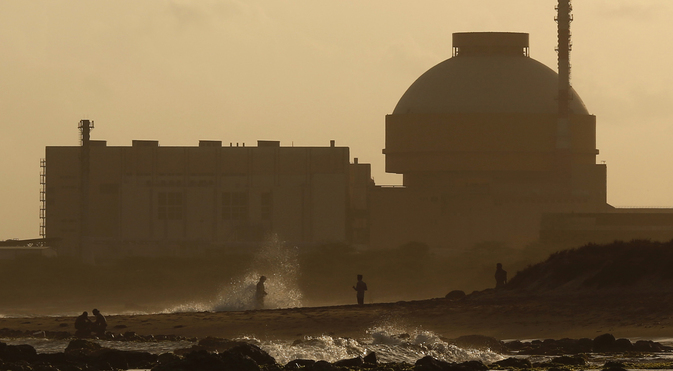 Russia and India hope to finalise a deal for Kudankulam 3 and 4. Source: Reuters
Kudankulam's third and fourth units, Indian participation in Yamal and the TAPI pipeline will figure prominently on the agenda when Manmohan Singh visits Moscow this month.
India's Prime Minister, Manmohan Singh is visiting Moscow this month to take part in the bilateral annual summit. As expected the officials of both the countries have stepped up activities in preparing the summit and making it productive. Earlier this month India's external affairs minister and commerce minister visited Moscow, while Russia's deputy prime minister took part in the Indo-Russian Inter-Governmental Commission on economic, scientific and cultural cooperation in Moscow. The enthusiasm on both sides this year appears vivid and it will be no surprise when this enthusiasm takes concrete shape in Moscow in the third week of this month.
There are reasons for this enthusiasm in bilateral relations to take shape. While speaking to reporters on the sidelines of the Asia-Pacific Summit last month, Russian Prime Minister Dmitry Medvedev admitted the positive content in India-Russia relations, particularly the nuclear-energy cooperation. He pointed out the success of Kudankulam-I nuclear power plant built in Indian state of Tamil Nadu with Russian support. he plant will be operational within few weeks and produce 1000 megawatt of power to help quench the energy thirst of India. Its counterpart Kudankulam-II is expected to go critical within a span of six months.
For India's energy security, Russia can play a crucial role. Despite debates, peaceful use of nuclear energy has come to stay. Developed nations like France meet more than fifty percent of their electricity from nuclear energy. In case of fast-growing India, energy to meet the demands of its consumers and industries, and development of infrastructure is certainly to grow. In a contrast, while India's energy demand grows, its domestic production is abysmally low. India is the fourth-largest energy consumer in the world and the world's sixth-largest importer of liquefied natural gas. And this puts it in competition with other energy hungry countries like China, which has started scrambling around the world from Africa to Central Asia, besides its energy cooperation with Russia, to meet its energy requirements.
Despite ups and downs, the strategic partnership of India and Russia has to stay. The partnership initiated thirteen years ago has remained strong mainly on two counts. Neither of the two countries is interested to jettison the relations built over last 60 or more years; rather the relations have coped with the changing world order. Participation of both the countries in important international forums like BRICS or G20, and equally importantly, the continuation of annual summits without break indicate that there is something deep in the relations which is unbreakable despite upheavals in international politics. The second factor is the practical content of the partnership. The economic content may appear laggard but it has shown positive sign in past few years. When energy and defence are added to the economic matrix, the relations have a huge prospect.
In the context of energy cooperation, the countries displayed resolve in giving concrete shape to Kudankulam-I project despite opposition from various quarters. India's civilian nuclear energy story will remain incomplete without Russian cooperation. There are instances when nuclear plants went shortage of fuel, as in case of Tarapur in 2006, and Russia supplied it. Nuclear energy, which is considered clean and safe, can be an effective source of energy for India. Indian scientists like A. P. J. Abdul Kalam have thrown their full weight behind this alternate source of energy. Besides the Kudankulam-II, both the countries have reportedly reached the final stage of deliberation in signing the III and the IV phase of the Kudankulam.
Besides nuclear energy cooperation, both the countries can cooperate in exploring oil and natural gas in Russia, which is abundant in these resources. India's investment of about $2.7 billion in Sakhalin is well known. India's Imperial Energy, a part of ONGC Videsh Limited (OVL) has already established its presence in the Tomsk region of Russia. India has also expressed interest in exploring the Yamal gas field in the western-Arctic region. At present, Yamal has 50 percent stake of Russian company Novatek, and 20 percent stakes each by China's National Petroleum Corporation and France's Total SA. India's participation in the project will help salvage part of India's energy insecurity, besides providing foreign investment in Russia.
Khurshid during his interview with the Voice of Russia in the first week of this month exuded confidence that energy cooperation would be taken to a new level with the visit of the Indian prime minister to Moscow. Besides expressing India's interest in a liquefied natural gas project at Yamal region, which is estimated to contain 20 trillion cubic feet of gas, and in developing a free trade area with the Customs Union, of which Russia, Belarus, and Kazakhstan are currently part, Khurshid also articulated how Russia can play a dynamic role in India's energy security. About Russia's possible involvement in the TAPI pipeline, Khurshid point out, "We are happy to entertain Russia in any way. Interests owned by Russia are extremely welcome. As I said, it can either be an investment on which there would obviously be a return, it could be participation in one way or the other and ultimately this pipeline could go well extend into Russia, because the gas is all in this region." The TAPI pipeline stretches from Turkmenistan to India through Afghanistan and Pakistan and Russia with its expertise can help build this pipeline. The proposed North-South transport corridor from Russia to India can play a crucial role in transportation of goods including oil and gas from Russia and its neighbors to India. Khurshid pointed out, "The North-South corridor is in fact both an imperative and it is a great opportunity for times to come. All we need is of course the other countries involved in it."
The visit of Manmohan Singh will add to the strategic content of bilateral relations and further affirm the smooth nature of relations and also their vibrancy in a changing world. Certainly the deliberations will encompass a diverse range of issues pertaining to bilateral and multilateral affairs. In this medley of deliberations, energy will certainly be a key issue for cooperation.
Dr. Debidatta Aurobinda Mahapatra is an Indian commentator. His areas of interests include conflict, terrorism, peace and development, South Asia, and strategic aspects of Eurasian politics.
All rights reserved by Rossiyskaya Gazeta.