Сombining Indian software & Russian hardware the way ahead - Kapil Sibal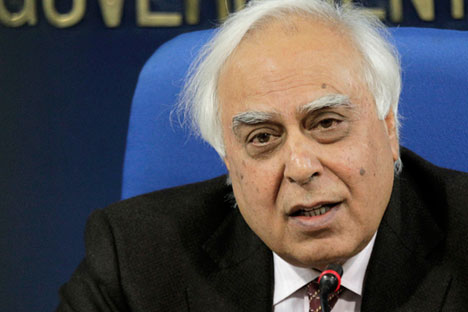 Kapil Sibal: "Our relationship has deepened over the years." Source: AP
India's Minister of Communications and Information Technology talks to RIR about the prospects of Indo-Russian joint ventures in the field of technology.
Which areas would you describe as prospective in the Indo-Russian relationship?
We are cooperating on the nuclear front. The first unit of Kudankulam power plant is up and moving. The second one is in the process of being built and there will be a third and fourth units. So on the nuclear front India and Russia are cooperating in a big way. And in the years to come this cooperation will increase.
Today NIS GLONASS signed an agreement with India to supply its personal tracking systems that could enhance the safety and security of women in the country. What results do you expect from these developments?
This will help both countries to deal with logistics, navigation and traffic. This will also impact the safety of citizens of the vulnerable and marginalized communities such as women children and old-aged people. And it will also result in safe cities and ensure appropriate law and order. We would like this system that is now going to be put in the place in Delhi to be actually be used all over the country for traffic management and other uses and for disaster management.
So there is also a lot of potential for technological cooperation between the countries as well, isn`t it?
This umbrella agreement can also be used for the purposes of enhancing our cooperation in the field of hardware, chipsets, in disaster management.
Is it possible for India and Russia to establish joint ventures in the field of technology like we produce together BrahMos missile for example
Absolutely. In fact that`s why we are collaborating with GLONASS. This collaboration could end up with joint ventures in these areas. We already have huge collaboration in avionics.
What Russia should to attract more IT-specialists from India for studies and collaboration?
If Russia collaborates with us in the area of hardware than I think our software engineers and hardware capabilities in Russia can get together and really produce goods and services that would be competitive in the rest of the world. This is the way forward.
How would you describe Indo-Russian relations nowadays in general?
I think that our relationship has deepened over the years. It evolved to a very important strategic partnership and the fact that the heads of our governments meet every year to discuss issues of mutual concern is a very positive step in realizing the potential of these two countries and also building upon the historical affinity that both our countries have.
All rights reserved by Rossiyskaya Gazeta.