Power generation begins at Kudankulam-1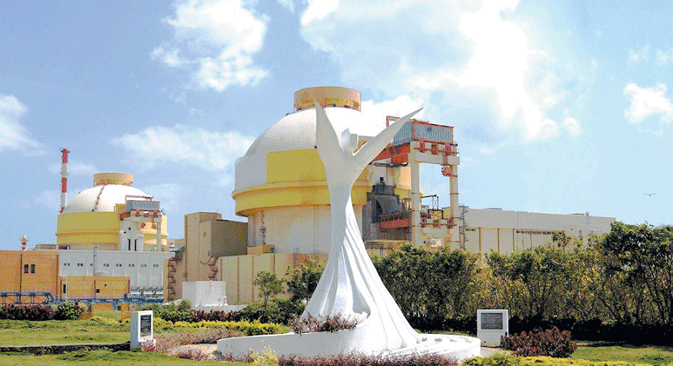 The Kudankulam Nuclear Power Plant in Tamil Nadu. Source: Press Photo
The synchronisation of the first unit with the power grid was done early on Tuesday morning, according to the plant's operator NPCIL
The first unit of the Kudankulam Nuclear Power Plant (KNPP) was synchronised with the power grid in the early hours of Tuesday morning. "Unit 1 synchronisation done at 2.45 am on Tuesday morning, generating 75 MWe," R S Sundar, site director, KNPP said.
KNPP operator, the Nuclear Power Corporation of India (NPCIL) is treading the path of caution with the plant, which attained criticality in July of this year. The reactor's behaviour following power generation will be studied by the operational group and then the readings would be submitted to the Atomic Energy Regulatory Board, the controlling body, for its 'super check,' The Hindu said. If the AERB is satisfied with the reactor's performance, it would allow the KNPP administration to increase the reactor's power generation capacity to 500 MWe, 750 MWe, 900 MWe and 1,000 MWe in several phases, according to the paper.
An official who was present at the site during synchronisation told the paper that at every stage, the KNPP operator needed to get the AERB's nod to take the quantum of power generation to the next level.
The Kudankulam units comprise of 1,000 MW reactors of the VVER-1000 model being constructed by the NPCIL and Russia's Atomstroyexport company, a Rosatom subsidiary.
India signed a contract with the Soviet Union to build the Kudankulam plant in 1988, while the actual construction started only in 1997 due to due to the political and economic upheaval in Russia after the collapse of the Soviet Union in 1991.
Although, the plant has faced foreign-backed protests in safety issues, leading Russian, India and international scientific experts have vouched for the safety of the project. The experts have maintained that superior technology and exceptionally high quality equipment used in the reactors at the project made them unique in the global nuclear industry. KNPP is the first pressurized water reactor that belongs to the light water reactor category in India.
At the 14th annual India-Russia Summit held in Moscow yesterday, the countries said they were satisfied with the progress in regard to the commissioning of the first unit and agreed to take necessary steps to expedite the completion of unit 2.
While the countries didn't reach a final agreement on the KNPP's 3rd and 4th units at the summit, Indian Ambassador to Russia Ajai Malhotra told members of the visiting India media contingent that an agreement is down to "a word or two and the lawyers are ironing out" the final details.
All rights reserved by Rossiyskaya Gazeta.