Russia restarts defence supplies to Iraq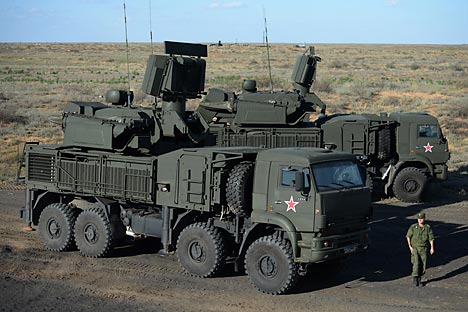 Pantsir S1 short-range air defense system. Source: ITAR-TASS
Iraq began receiving anti-aircraft missiles, Pantsir-S1 gun systems and Mi-35 AND Mi-28NE helicopters, which were purchased under a historic agreement, signed in 2012
Russia, a traditional ally of Iraq, once again began to deliver arms and ammunition to the Arab country, Ali al-Musawi, the Iraqi government's media advisor told Russia Today
The deliveries are part of a contract signed back in 2012 that "provides mainly for the supply of weapons to fight against terrorists," al-Musawi said. "Helicopters that have worked well in counter-terrorism operations will be delivered. In addition, special anti-terrorist equipment will be supplied."
Ali al-Musawi also explained that "the Iraqi defence system created with the assistance of the U.S. and the West has as its main objectives, protecting the country's sovereignty and combating terrorism." He added that "Iraq does not have offensive weapons, as it has no expansionist plans. Iraq seeks only to ensure its own sovereignty, to protect its wealth, and fight terrorism."
The contract, worth more than $4 billion, was signed during a visit by the President of Iraq to Moscow in October 2012. It involves the supply of 48 anti-aircraft missiles and Pantsir-S1 gun systems, as well as 40 Mi-35 and Mi-28NE helicopters. Baghdad originally planned to buy 36 Russian helicopters, but in April 2013, this number was increased by four. The first group of Iraq experts completed training on the operation of the Mi-35 in the Russian Air Force Centre in Torzhok.
Later, Russia and Iraq, held talks on the supply of MiG-29M/M2 fighters and armoured vehicles, but the details of this meeting have not been made public. In addition, in June of this year, the two countries signed a contract to supply Ka-52 military helicopters to Iraq. The preliminary agreement for the supply of these aircraft was signed in October 2012.
All rights reserved by Rossiyskaya Gazeta.