Russia trains foreign military to safeguard its national interests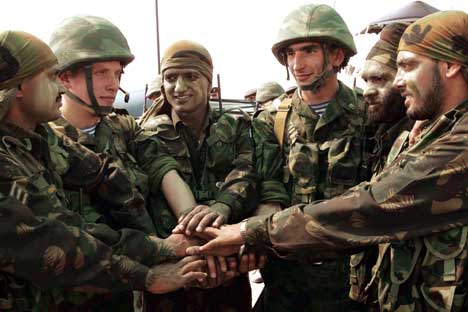 Source: Rossiyskaya gazeta
Whereas in 2002, Russia trained military and technical personnel from 51 countries around the world, in 2005 that number went up to 60 countries. Several thousand Indian military professionals have been trained in Russian military academies
The Russian school of training foreign military specialists is still in great demand. One can see fresh proof of that in the agreement between Russia's Air Force Commander, Lieutenant-General Viktor Bondarev and his Iranian counterpart Hasan Shaha Safi on cooperation in training military pilots, concluded in Teheran on Monday.
The president of Russia's Academy of Geopolitical Issues, Lieutenant-General Leonid Ivashov (retd), who in 1996-2001 was chief of the Defence Ministry's international military cooperation department, has told Itar-Tass that "by training foreign military Russia pushes away threats to its own security from its borders and contributes to a policy of maintaining stability."
At a meeting of the military-technical cooperation commission a year ago Russian President Vladimir Putin set the task of improving the system of training foreign military in Russia. As an example he mentioned the practice of training Afghan Air Force pilots under a contract to supply Mi-17 helicopters for Afghanistan's national army, adding that it was not the sole such case.
"Over the past three years the number of foreign specialists undergoing training at the Russian Defence Ministry's academies has grown more than 50 percent," Putin said.
Whereas in 2002, Russia trained military and technical personnel from 51 countries around the world, in 2005 that number went up to 60 countries. Several thousand Indian military professionals have been trained in Russian military academies
In 2011 the number of foreign students at Russia's military academies increased by a third compared to a year ago. The head of the military training office, deputy chief of the Defence Ministry's personnel department Tamara Faltseva, has said foreign military personnel are allowed to undergo instruction at 59 of Russia's 65 military academies. Five thousand to eight thousand foreign military specialists take courses in these institutions of higher learning every year.
The CIS countries and signatories to the Collective Security Treaty Organization enjoy priority in having their military specialists trained in Russia on beneficial terms. Cadets and students from these countries account for over 50 percent of the overall number of foreign nationals receiving instruction. The Russian Defence Ministry, according to its spokesman, "puts the emphasis on all-round development and deeper military integration between Russia and the CIS and CSTO member-states, on preventing challenges and threats to Russia's security and on forming a common defence space within the CIS."
In the Soviet Union, military instruction of foreign specialists was based on ideological dogmas. As a former officer of the USSR General Staff's department who was responsible for the instruction of foreign military recalls, "the priority was attached to the countries that at least professed commitment to the socialist way of development." Among them there were countries in Southeast Asia (Laos, Vietnam and Cambodia), the Middle East (Syria, Iraq, South and North Yemen, Libya and Algeria) and also Angola, Mali, Mozambique and Peru.
The USSR Defence Ministry's academies that offered instruction to foreign nationals were found all over the country - from Lvov, in the west of Ukraine, to Vladivostok, in the Far East. According to the source, a total of 10,000 foreigners were trained every year. In particular, the former Defence Ministry official recalls trainees such as Hafez Assad, a future president of Syria, and Hosni Mubarak, a future president of Egypt.
Colonel-General Leonid Ivashov sees a combination of political and business interests behind the current practice of training foreign military personnel in Russia. The military equipment Russia sells to other countries requires proper specialists capable of operating it and keeping it in order. And the other way round, specialists trained in Russia literally "fall in love with" Russian military hardware, which is an extra factor for greater weapons supplies to other countries to the benefit of Russian manufacturers and the national budget.
Ivashov remarked that in political terms Russia was interested in training foreign military specialists, because "the graduates of military academies become Russia's friends for their lifetime and in this way Russia creates a friendly military and political elite in many countries of the world."
In his interview to Itar-Tass Ivashov touched upon such a sensitive subject as spying at military academies.
"Certainly, as they send their specialists to Russia for internship, the NATO countries pursue their own intelligence aims, such as acquiring better knowledge of our strategy and the latest types of military hardware. For this reason the Academy of the General Staff imposes certain restrictions on the training of specialists from the North Atlantic Alliance.
Ivashov strongly criticized Russia's former defence minister, Anatoly Serdyukov, for underestimating the importance of training foreign military and for abolishing the Russian language and military translators' departments at Defence Ministry academies. Serdyukov's successor, Sergei Shoigu "is now correcting this bias."
First published by Itar-Tass (http://www.itar-tass.com/en/c39/921565.html)
All rights reserved by Rossiyskaya Gazeta.