Russian-Indian relations are on the rise: Kadakin on Rajya Sabha TV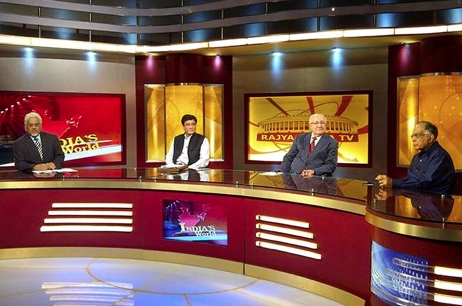 Alexander Kadakin: "We are working together on making the content of our relationship much richer than it is now." Source: Embassy of the Russian Federation in New Delhi
Russian-Indian relations are on the rise: Kadakin on Rajya Sabha TV.
Russia's ambassador to India Alexander Kadakin took part in a discussion on Rajya Sabha TV, where he said the recently concluded 14th annual Indo-Russian summit would push bilateral ties to a higher trajectory.
Participating along with his Indian colleagues, Ambassadors Prabhat Shukla and Rajiv Sikri, in the 'India's World' panel discussion, which was dedicated to the recently concluded annual summit meeting, Ambassador Kadakin emphasised that "Russia does want India to be a superpower, and for decades it has been doing everything to achieve this."
Evaluating the present level of Russian-Indian interaction Alexander Kadakin stated that "the relations of special and privileged strategic partnership are at their peak, at their best. They are looking up and on the rise and the summit has proved it most graphically and beyond any doubt."
Stressing the need for promoting international cooperation in the modern global environment th ambassador said, "the world has changed, Russia has changed. It is not the erstwhile Soviet Union any more. We are a new and in a way a young country. India has changed with all the economic reforms it has been carrying out. And the world has changed in the meaning that now there is no battle for India like it was during the block politics of yesteryears. We are not objecting to India having relations with as many other countries of the world as she desires. We also want to have better relations with the US, and India, as a great power in the making, has every right to establish good relations with other countries. We do not feel jealous. It would not be correct to assume - as very often your press does – that, look, if you have better relations with America, we shall have worse relations with Russia. It is all wrong because this is the perception of the bloc system, of the Cold War era."
Referring to the Afghan part of the joint statement of the Moscow summit Kadakin said that "Russia and India are in the same boat as regards threats emanating from Afghanistan after 2014 and our national interests completely coincide in this matter".
Sharing his opinion on bilateral partnership the ambassador recalled that Russia has been giving India "everything the very best we have, and most confidential things". He reminded the panel that in a few days India was going to receive the INS Vikramaditya, and as President Putin mentioned last Tuesday in the Kremlin, "she is such a beautiful baby that we feel sorry to part with her". "It was for the first time for the two sides that such a beautiful baby had to be born," the ambassador said. "I used to stress many times that in order to deliver a healthy baby, she should not be born prematurely. We wanted to provide our sister India with a healthy and beautiful aircraft carrier, which we have done".
Regarding the military-technological cooperation between the two countries, Kadakin said Russia in general is against conducting "sly tenders" in this area. "Deals have to be made on intergovernmental basis. Tenders are often sly and crafted. You can easily see it in that notorious helicopter deal, about which we read on front pages every morning. That is why we are not exactly in favour of tenders. I wonder through which tender would you lease a nuclear submarine, or produce the best cruise missile in the world like Brahmos," he argued.
Answering a question about the reasons for low bilateral trade between Russia and India Kadakin admitted that things could be better in this field. "We have already reached the target of $11.4 billion trade turnover but this is peanuts for our countries. Even when we reach the $20 billion mark it will remain peanuts. I feel it happens because there is still excessive shyness to do mutual investments on the part of Indian businesses and the Russian business community. Indian businessmen do not want to invest in Russia – that is bad. We have announced such great opportunities for pharmaceuticals but they are more interested in simply taking generics to Russia and just selling them, not in building production capacities in Russia, what we expect," Ambassador Kadakin said.
Expressing his opinion on the prospects of the Russian-Indian relationship, the ambassador, "We are working together on making the content of our relationship much richer than it is now. For achieving this goal we have to continue working, which we do. We have to hold annual summits. We have to inaugurate projects and start the new ones. Actually, last night Kudankulam Unit 1 was synchronized with the national grid again, and the talks on units 3 and 4 are going on. We have to build 14 to 16 more nuclear units. We have to implement good things."
Summing up the results of the summit, Ambassador Kadakin particularly stressed on the fact that "there has been unprecedented warmth and special chemistry between Prime Minister Manmohan Singh and President Putin".
"Our common yardstick should not be multi-billion dollar deals only. We have something that you cannot buy for thousands of billions – that is friendship and affection between the two nations, between the two peoples," the ambassador said.
The transcript note of the 'India's World' panel discussion on Rajya Sabha TV Channel, broadcasted on October 28.
First published on the website of Embassy of the Russian Federation in New Delhi
All rights reserved by Rossiyskaya Gazeta.