India, Russia to hold first ever Air Force exercise next year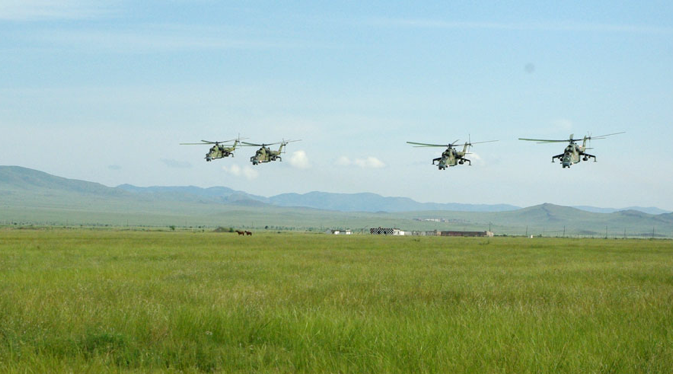 Training helicopters flights during Indra-2012 joint drills. Source: Ministry of Defence of the Russian Federation / mil.ru
The countries will also hold a joint navy exercise in the Peter the Great Bay in the Sea of Japan in 2014.
In a major concrete deliverable at the 13th meeting of the India-Russia Inter-Governmental Commission on Military Technical Cooperation (IRIGC-MTC) in Moscow on November 18, the two sides decided to hold the first-ever joint India-Russia Air Force Exercise which will be held next year.
The two Defence Ministers AK Antony (India) and Sergey Shoigu (Russia), who co-chaired the IRIGC-MTC meeting, also decided that the will hold next year a joint navy exercise in the Peter the Great Bay in the Sea of Japan.
This will complete the triad of Indo-Russian joint military exercises as the two countries' armies had recently held Exercise Indra in Rajasthan with prime focus being on anti-terrorism. Sitanshu Kar, chief spokesperson of the Indian defence ministry, said in a press note issued on Monday evening that the two defence ministers agreed that there is a need for further cooperation at all levels, especially in view of the regional and global challenges and to fight the menace of terrorism jointly. Both sides reviewed the situation in West Asia, especially in Syria and the evolving paradigm in Afghanistan.
New thrust to Indo-Russian strategic cooperation
The two defence ministers also decided to give a new thrust to Indo-Russian strategic cooperation. They agreed that the time has come to expand the cooperation not only in product design and development, which has made significant progress over the years but also to involve various echelons of the defence establishments in strategizing policies and cooperation in the fast changing global security scenario, Kar said.
Two issues came up for some intense discussions at the IRIGC-MTC meeting: Fifth Generation Fighter Aircraft (FGFA) and Multi-role Transport Aircraft (MTA). On these two issues Antony went on record as saying that the two projects are significant because they symbolise going past the relationship of buyer- seller. He said both sides must give their best at all phases of the execution of these two projects- design, development and production, Kar quoted Antony as saying.
For his part, Shoigu assured that the naval aviation specialists will train Indian pilots fully for take- offs and landing on INS Vikramaditya and in all probability it will be held in Goa. The IRIGC-MTC meeting also reviewed issues relating to T-90 tanks and SU-30 projects.
On the issue of after sales support, both sides felt that they should sign long-term maintenance support agreement, the MoD's press note said.
The writer is a New Delhi-based journalist. His Twitter handle is @Kishkindha.
All rights reserved by Rossiyskaya Gazeta.