Seminar on peaceful use of nuclear energy held in Trivandrum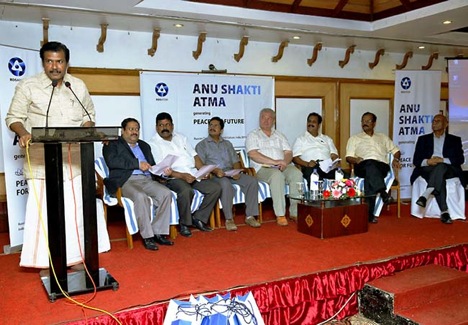 The seminar to promote Russian-Indian relations in the field of peaceful use of nuclear energy was held on November 10. Source: Russian Embassy in New Delhi
The seminar, which was jointly organised by the Russian Centre of Science and Culture and Rosatom, was inaugurated by Lok Sabha MP Anirudhan Sampath.
The Russian Centre of Science and Culture in Trivandrum in association with the Russian State Nuclear Energy Corporation Rosatom organized a seminar and a photo exhibition to promote Russian-Indian relations in the field of peaceful use of nuclear energy. The seminar was held on November 10 at the Symphony Hall of the Hotel Mascot and the exhibition was held at the Roerich Art Gallery at the RCSC.
Lok Sabha Member of Parliament Anirudhan Sampath inaugurated the seminar, stressing the necessity of promoting nuclear energy. "Kerala has 44 rivers but the recent experiences show that the nuclear reactors are the cost effective and environment friendly energy sources," he said. "I am very glad to know that Russia had come with the safest technology and is building 14 reactors all over the world. 20 million houses in south India will get electricity when the Kudankulam reactors will be commissioned. This is a major achievement. This co-operation between Russia and India in the field of Peaceful use of Nuclear Energy is a model for the rest of the world."
P. P. James, President of the Trivandrum Press Club delivered the key note address. Senior journalist Jacob George, secretary of Trivandrum Chamber of Commerce and Industries, Raghuchandran Nair, Vice-Consul and director of the RCSC in Mumbai Vladimir Dementiev and the president of the Kerala State Electricity Board Officers' Association Rajeev spoke on the occasion.
Honorary consul of the Russian Federation and director of the Russian Cultural Centre in Trivandrum Ratheesh Nair welcomed the gathering and secretary of the Indo-Russian Friendship and Cultural Society
The events received wide publicity in the state and were followed by nine TV channels and seven newspapers. Kerala is one of the beneficiaries of the Russian-built Kudankulam Nuclear Power Project.
First published on the website of the Russian Embassy in New Delhi.
All rights reserved by Rossiyskaya Gazeta.