Russia's start-up strategy unlikely to succeed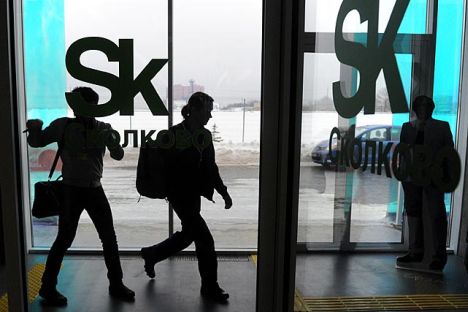 The government attempts to create conditions for startups - Skolkovo for example - but is ineffective and clumsy in doing so. Source: Press Photo
Experts are skeptical about the prospects of a Russian government foundation to support startups.
Startup support is becoming a part of the Russian government's small- and medium-business support policy.
Notwithstanding planned 2014 budget expenditure cuts (many items will be reduced by 5 precent), Russia will allocate 70 billion rubles to a special Federal Guarantee Fund expendable on extending credit guarantees to small and medium business representatives.
"Despite all difficulties, we will continue supporting small companies, production and innovative generally, including startups", Prime Minister Dmitry Medvedev, said at a Sochi investment forum in September.
Startup support infrastructure is developing in Russia: venture funds are created, regional administrations issue laws supporting investors, and fiscal reliefs are granted. The dynamics of investments in high-risk venture projects demonstrates growth, as calculated by the Russian Venture Capital Association. According to their data, more than 130 investments totaling around $400 million were made to such segments in 2012.
"More than 25 new players entered the market of direct and venture capital investment funds for the first 2013 half year, with the number of venture funds surpassing the number of direct investment funds more than threefold. The accumulated capital volume has increased by 28 percent over several recent years and skimmed the $26.4 billion bar, exceeding the similar 2011 indicator ($20.1 billion) by one-third nearly," according to a 2012 Russia direct and venture capital investment market review prepared by RVCA.
Russian Venture Company and PricewaterhouseCoopers value venture investments more. According to their research, such indicators amounted to $910.6 million in 2012, exceeding the previous year level more than twice. Structures of businessmen known in Russia, such as Yuri Kovalchuk, Viktor Vekselberg and Roman Abramovich, are engaged in venture investments. The latter's structures have recently invested in Sape.ru project, a dotcom that has developed a system for the purchase and sale of URLs.
Investing in technological startups is catching on, and those who had earned money in other branches engage in it with ever increasing frequency, as Vedomosti was told by Dmitry Chikhachev, Runa Capital Managing Partner.
Elena Trofimova, the chief executive officer of CJSC International Center for Development of Innovation, to RIR that Russian startups have a significant potential and are extremely attractive for foreign investors.
"There are plenty of branches in Russia requiring innovations, and experience in various regions demonstrates that we have many interesting, high-profit projects and administrations of a number of regions seek, that is are cheering, to create a favorable investment climate," she said.
According to her estimate, Russian and foreign venture capital investors' interests in Russia differ. Russians are interested more in Internet commerce, IT-technologies projects.
"They are inspired by examples from Silicon Valley," one expert said. Infrastructure projects are in the greatest demand.
Anatoly Voronin, and analyst with IFH FIBO, is more skeptical. According to his estimate, the "startup" term itself is varies greatly in Russia. He said the elaboration and preparation quality of the majority of startups, in management area especially, is on a rather low level, thus complicating the expert evaluation of projects and their development forecasting.
Finding adequate investors for startups simultaneously, assess them is rather difficult. "We are again in a situation here, when government and market methods clash. The government attempts to create conditions for startups -- Skolkovo for example –but is ineffective and clumsy in doing so. Market funds for supporting startups have their own methods of searching and evaluating projects, depending on the purposes and targets of such funds. These are non-public and closed structures, which not only stake their money, but assist with the management, and settle other matters," he told RIR.
Voronin calls Russian startup market "over-the-counter." Investors cannot just enter the site, select a startup under a clear list of its criteria and wait. It will likely have to update the "half-finish" on its own.
As regards to unoccupied niches, Voronin said that B2C e-commerce niche, besides being occupied, has many clones already. "The idea of investing in regional (Russian) clones is absolutely unpromising today in my opinion. Creation of 'additions' for popular services and projects of various kinds to improved the infrastructure in different areas: B2B, B2C and G2C especially, is of more interest and prospect. The latter line has a very rapid development in Russia," he said.
All rights reserved by Rossiyskaya Gazeta.