A level playing field for small Indian businesses in Russia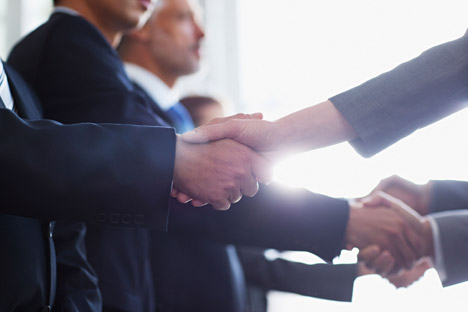 Bilateral Russian-Indian trade turnover reached $11 billion in 2012. Source: Alamy / Legion Media
Indian small and medium-sized businesses in Russia can count on the same support and protection as domestic companies, Russian officials said at the Fifth Indo-Russian Business Forum.
India has considerably strengthened its positions in terms of trade with Russia, climbing five places to 18th in the blink of an eye, noted Russian business representatives at the Fifth Indo-Russian Business Forum, held in Moscow on Tuesday. The event was organized by the Indian Business Alliance (IBA) with the Indian Embassy, and the Business Council for Cooperation with India (BCCI) of the Chamber of Commerce and Industry of the Russian Federation. The forum took place under the auspices of two major Russian business associations: Opora Russia and Delovaya Russia.
Last year, bilateral Russian-Indian trade turnover reached $11 billion, and (according to a joint communiqué published this fall by Russian Minister of Economic Development Alexei Ulyukayev and Indian Minister of Commerce Anand Sharma) the two sides plan to make every effort to hit $20 billion by 2015. This commitment is backed at the highest level in Russia. Last month, Russian President Vladimir Putin said that the two countries can "do better."
Earlier this year, trade turnover between the two countries witnessed a brief slump, which seemingly caused concern in both Moscow and New Delhi. Both economies face quite serious challenges. India, for example, has encountered problems with the stability of its currency: "The collapse in the rupee is increasing import costs there and worsening the current account deficit," Dr William Wilson, a senior analyst at the Skolkovo Institute for Emerging Market Studies, told RIR. Russia, meanwhile, is struggling with a decline in industrial output, which has practically leveled in the past ten months. "Both countries have seen a collapse in economic growth in recent quarters. If this were to revive some day, so would bilateral trade," added Wilson.
Nevertheless, the forum participants found reasons to cheer. For instance, since the beginning of this year, Russia has been visited by over 55,000 citizens of India for tourism and business purposes, announced Russian State Secretary and Deputy Head of the Federal Migration Service Yekaterina Yegorova. "Russia is interested in economic development and investment flows, and in this regard, Indian businesses occupy an important place," she remarked, adding that many Indians are working in Russia and about a quarter of the total are highly skilled professionals. "An important area in the development of Russian law is to improve the climate for business people and investors. We welcome all citizens of India, and will create the right conditions for them here," she stressed.
According to Viktor Yermakov, Russian ombudsman for the protection of small and medium-sized business, from October 1, foreign investors who set up small and medium enterprises in Russia enjoy the same rights as domestic companies. They will be in receipt of an extensive program of support in this sector of the economy on a par with Russian business. In particular, they will be able to take advantage of programs to facilitate exports. 100 billion roubles in cheap money (credit at preferential rates) will be allotted for the financing of export contracts alone, said the ombudsman.
Furthermore, he spoke of the introduction of a new mechanism in Russia to protect the rights of entrepreneurs against the unlawful actions of authorities and law enforcement agencies. A body of ombudsmen is now in place to protect the rights of businesses at all levels. Through these and other efforts, Russia has climbed 20 places in the Doing Business rating this year. If this pace can be maintained, it will soon have one of the most favorable business environments of any country, Yermakov said
The forum made particular note of India's progress in the pharmaceutical industry. Back in the 1960s, India imported medicines from the Soviet Union, recalled Mikhail Murashko, acting head of the Federal Service for Supervision of Health. Nowadays, a huge proportion of medicines sold in Russia are of Indian origin. Last year, India's share of the Russian pharmaceuticals market stood at 4 percent (although this year saw it drop to 3.6 percent, which is below the level of 2010). Last year, India's largest seller of medicines in the Russian market was Dr Reddy's Laboratories, LLC. Moreover, the average cost of Indian medicine remains quite affordable in Russia.
However, as noted by Murashko, India supplies more than its fair share of substandard medicines. "In the first nine months of 2013, Indian pharmaceuticals accounted for 24.3 percent of all substandard medicines of foreign make," he remarked.
To improve the situation and to develop cooperation in the pharmaceutical industry, Murashko cites a detailed plan of action: first, to establish a system of information exchange between Roszdravnadzor [Russia's Federal Service for Supervision of Health and Social Development] and India's Central Drugs Standards Control Organization on the quality and safety of medicinal products and pharmaceutical substances; second, to obtain a list of pharmaceutical companies that are GMP-certified from India's regulatory bodies, and lastly, to arrange visits to India to exchange experience in the field of medical quality control, and to inspect Indian laboratories and the production floors of certain Indian drugmakers.
Ajai Malhotra, India's Ambassador to Russia, also took the floor at the forum underlining that a whole range of documents was signed during the recent Indo-Russian summit and the business relations between two countries were moving in the right direction. "If you see the trade figures for the last 4 years 2009-2013 you see that this year trade turnover between India and Russia made a jump and crossed the $10 billion mark reaching $11.0 billion," Malhotra said.
"Overall, there are some bright spots but we need to put in an effort because we don't have such good knowledge, appreciation of what can be done in each other's countries. There is a need for more Indian investment in Russia," the Indian ambassador said.
All rights reserved by Rossiyskaya Gazeta.