Beyond the Indo-Soviet Legacy: Cooperation in a globalised world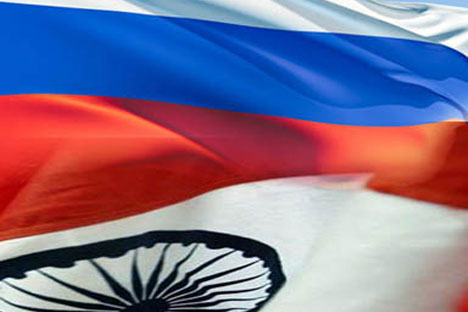 The time has come for the two nations to tear down the wall between them and reconcile their differences. Source: Press Photo
Russia and India need to put the emphasis on bilateral trade to take relations to the next level.
The long travelled path of transcending Indo-Russian relations should now move into the trajectory of a steadfast velocity. These discussions should now focus into strengthening their economic presence by conjoint efforts to aid each other and make the respective economies reinforced to skyrocket to the next level. Both the nations can now endorse discussions on emancipating their stand on upgrading technology within their countries.
A business council
The recent fall of the rupee, the 1997 Asian crisis and the 2008 recession, have all shifted us on an alert mode when it comes to the BRIC nations. The rupee crash has indeed pushed India in a catch-22 situation, either to balance the current account deficit or to focus on economic growth.
The Russian and Indian authorities need to conceptualize a council or an organization which will create a framework to formulate policies to foster trade between these two nations. This council will exclusively work on the businesses between both, by creating a corpus to promote trade and businesses. A FTA (free trade agreement) concept between both will promote a smoothening experience of trade and will counterattack the trade related imbalances braved by both India and Russia. These steps will fortify both the nations' presence amongst BRIC countries. The combined 'super' nature of trade will overshadow the Chinese impact on the world trade. This will indeed combat the Chinese influence.
Dual business remodelling
The time has come to move over from the basics of business to a more impactful model that would help both countries establish a mature, robust scale of commerce. There is a need of an exclusive board for promotion of business and commerce (apart from the existing Indo-Russian Forum on Trade and Investment) that focuses on fund creation and platforms for all types of businesses to promote their products and services. An exhaustive online community would help connect suppliers and buyers. Also regular conferences should be conducted in various forums at various levels and frequently within the year. These efforts are very effectively directed to create opportunities to source finished goods and resources for various companies.
These companies in India and Russia should then look beyond China to source raw materials and sell their finished goods. Regular conferences by the created council body could advertise the rampant opportunities present across both the nations, so that the businesses can take the fullest advantage.
A healing touch of medicines
There stands to be created a special regulatory body which promotes a FTA between India and Russia to escalate trade of vital products like pharmaceutical drugs and medical devices. Being the world's biggest generics player, India can easily supply state-of the art medicines at reasonable costs. An exclusive regulatory body can be set up, which encourages speedier movement of medicines across boundaries.
The time has come for the two nations to tear down the wall between them and reconcile their differences to pave a monumental path, pushing in the grand momentum of development of each other.
This essay won the second runner-up prize in RIR's competition held in October.
All rights reserved by Rossiyskaya Gazeta.