Russia-Belarus potash tussles far from over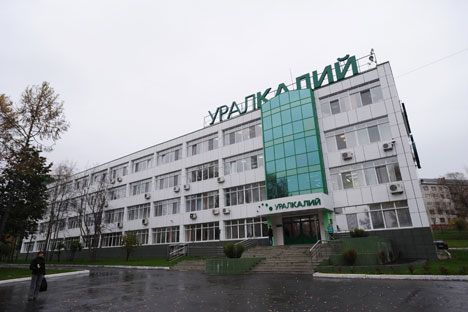 Uralkali together with Belaruskali can control 40 percent of the world market. Source: Pavel Lisitsyn / RIA Novosti
The first round of the big game being waged between Russia and Belarus over potash assets is over. Experts believe that there will more twists in this saga.
Last week Belarus finally extradited Vladislav Baumgertner to Moscow. The general director of Uralkali, who had become a hostage in the fight for potash assets between Moscow and Minsk, had been under arrest in Belarus since August 26. Baumgertner was detained in Minsk after being invited for talks after Uralkali quit a cartel with Balruskali, its state-owned partner in Belarus. The resulting price fall in potash prices angered Belarusian President Alexander Lukashenko.
The main claim of the investigation agencies in Minsk was that a group of top managers associated with Uralkali had usurped control over the sales of potash and that important information was withheld from the Belarusian side. However, some media outlets attributed this to the Russian side being frustrated with Lukashenko, who refused to sell Belaruskali to them and was looking for international investors.
Before the conflict, Uralkali and Belaruskali were allies and sold their goods mainly through the Belarusian Potash Company (BPC). At the end of last year, the Belarusians actually came out of the potash union – Lukashenko signed a decree on the cancellation of exclusive rights of BPC for exports of Belarusian potash. The process of potash price dumping started. Uralkali was forced to change its strategy, stopped its sales through BPC, quit the cartel with Belaruskali and moved towards maximization of sales at lower prices. "In fact, the decision of Uralkali meant a declaration of a 'price war'. Other companies all over the world (primarily in Brazil) followed the example of Uralkali, which negatively affected the potash prices," says Vasiliy Yakimkin from the FIBO Group.
The rupture of relations resulted in a sharp decrease in prices – from $400 in July to $305-310 in November for FOB Baltic Standard. In autumn, prices on phosphorus-containing fertilizers (DAP) also fell, for which, in the heat of the moment, the manufacturers indicted Uralkali. According to estimates of Daria Zhelannova, deputy director of the analytics department at Alpari, the detention of Uralkali's top manager caused a market meltdown by $20 billion.
In order to get Baumgertner back to Moscow, the owner of Uralkali had to be changed. ONEXIM, one of the largest Russian investment funds controlled by oligarch and politician Mikhail Prokhorov, bought Suleiman Kerimov's shares (21.75 percent). The deal value was not disclosed, but according to Zhelannova's assessment, it would have been calculated based on the company's market capitalization of $20 billion.
Oleg Dushin from IC Zurich Capital Management says that, with the return of the top manager, the story will become more constructive and direct blackmail on the part of Belarus will stop. However, this does not mean that Moscow has surrendered to Belarus. The story can be finished only after the fate of the Belaruskali is determined. Russia wants to take it for itself, and until that happens, the story is not over, says Konstantin Simonov, head of the National Energy Security Fund. "Baumgertner was taken as a hostage in Minsk, and Lukashenko's requirements were met – the shareholder in Uralkali was changed. Baumgertner is likely to be held in a pre-trial detention facility as a formality, and then he will be released. However, the story itself is just beginning," he told RIR.
Experts believe that Lukashenko miscalculated when he agreed on Prokhorov, because Kerimov had borrowed money, while his replacement has his own money. After Prokhorov had sold Polyus Gold, he still had numerous non-productive (insurance, innovation, sports, political) assets left. The billionaire got bored, he did not achieve any major breakthroughs in politics, and decided to try his hand in another mining sector," says Dushin.
Having a significant amount of free cash, Prokhorov will be a much more problematic shareholder for Lukashenko. "He will continue to pursue the price dumping policy and to twist Lukashenko's hands, urging him to sell the asset," says Simonov.
Belaruskali is a very attractive asset. Together with Uralkali, they can control 40 percent of the world market. Thus, if the new shareholder is able to combine these assets, a global monopolist will be created, a powerful player with the ability to set world prices.
Recently, Lukashenko stressed that he supported the revival of the potash cartel involving Belaruskali and Uralkali. "He wants the prices to rise up to $900 per ton once again, but the ship has sailed. The previous prices will not return," says Vasily Yakimkin. Konstantin Simonov believes that control through ownership is the only way ahead for the integration of the two potash giants. "I am confident that, having gained control of the major assets of Belarus, the Russian side will be able to solve political issues with such figures as Lukashenko more effectively," says Simonov.
All rights reserved by Rossiyskaya Gazeta.