Driving Indo-Russian ties in the 21st century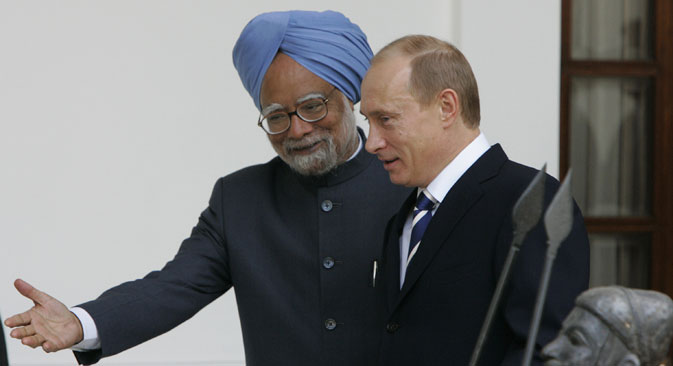 India and Russia have never found themselves at loggerheads concerning any decision of international importance. Source: AP
The sky is the limit when it comes to the development of relations between the two allies, whose ties have a rock-solid foundation.
All those pessimists, who are of view that wrinkles have appeared in India-Russia ties, must know that New Delhi's forging of ties with the West doesn't boil down to jeopardising relations with its long time ally. When the chips were down in India in 1971, Russia staved off America's military misadventure. Ever since, the countries have had a history of successful cooperation and friendship which includes strengthening of India's defence and space programme. Russia stood by India when strictest sanctions were levelled against her following the nuclear tests in 1998. Russia vouches for India's permanent membership at UNSC and supports her membership in NSG.
Living in today's globalised world seems fascinating with distance no longer a reliable indicator of our involvements with world affairs. Ergo, there are immense opportunities for both nations to engage in constructive activities.
Considering the full potential of India's enormous untapped workforce, Russia can better exploit that opportunity. Privatization isn't alien to the Russian economy anymore. This calls for more Indian participation in investments in Russia. India plans to invest $1 trillion in civil infrastructure in next five years. Russians shouldn't vacillate to grab a piece of this pie. Future deals in the wind may take bilateral trade to $20 billion by 2015. To achieve this feat, we need to diversify the trade profile that's limited to importing iron, steel, fertilizer and oil from Russia with special attention on IT, steel, aerospace and food products. Upcoming ambitious projects relating to energy and setting up of pipelines should be in the crosshairs of Russia.
Russians have already left footprints in India's civil nuclear energy sector while India has proved that its nothing less, as Ranbaxy, an Indian firm has provided stiff competition to several European and Russian companies in Russia in the pharmaceutical sector. Moreover, Russia should consider fast-tracking the proposal made by India on FTA between India and Russia-Belarus-Kazakhstan Customs Union. Cooperation in the field of health and telecommunication sectors should be accorded priority. They should discuss measures to phase out dollar usage and allow their own currencies in bilateral trade including that in oil, so as to reduce conversion cost (1RUB=1.93INR) and burden on forex reserves. Russia has the largest geographical area in the world with no space crunch. Leasing of farmlands by Russia in order to enable India in addressing prospects of food shortage in future may be explored. SEZs may be made open to investors from either nation to boost trade and commerce.
Russia has never hesitated to transfer key defence technologies to us. Now, the time is ripe to take Russian munificence to a new level by indulging in joint collaboration in R&D. The BrahMos cruise missile programme is a stark reminder of the fact that sky is the limit. This extends equally to collaboration in space programmes. Joint military drills, intelligence sharing and counter-terrorism operations should be granted utmost importance since both the countries share a common goal of world peace and are victims at the hands of terror unleashed by radical Islam. Cyberspace has become increasingly vulnerable to a plethora of threats including unauthorised electronic surveillance. Impediments in tackling this menace result from difficulty in attribution and anonymity. Sincere efforts by both nations are indispensible to challenge these multi-dimensional threats.
Although foreign policies differ, India and Russia have never found themselves at loggerheads concerning any decision of international importance. Be it Libya or Syria, both the nations have time and again pressed for peaceful resolution to conflicts, contrary to the harum-scarum and war-mongering stance of the west. Syrian crisis resolution insinuates a diplomatic win for Russia. Post 2014, Afghanistan may again turn into a cauldron of violence and jihad. Both countries should join hands in ensuring democracy and spreading modern education in Afghanistan, which may otherwise descend into anarchy.
In education sector, university tie-ups and student exchange programmes should be accentuated to exploit untapped avenues in the field of science and technology. Growing fascination of Indians towards the West over Russia may be reversed if language problem is addressed. An endeavour to vindicate genuineness of Vedic science with modern technology may be accelerated in the line of Dr. Konstantin Korotkov's success in his research on human aura and spirituality.
Sincere efforts to bring together the expatriates of either country would certainly bring us closer.
This essay won the first runner-up prize in RIR's competition held in October.
All rights reserved by Rossiyskaya Gazeta.