Unpredictable Russian market 'interesting, yet stressful'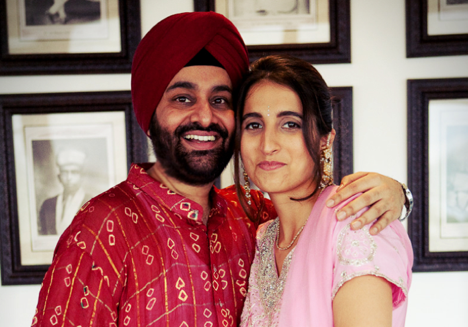 Akashdeep Singh. Source: Personal archive
Akashdeep Singh, Chairman and Managing Director of Vulkan-A Ltd, a textile company talks to RIR about the latest trends in the industry in Russia.
Vulkan-A, an international textiles company, is an official distributor for well-known cloth mills from India. The company also designs fabrics for various kinds of users, from fashion-savvy customers to those who are cost-conscious. Most of their clients are manufacturers of men's shirts, suits, dresses, corporate and casual wear and jeans. They also produce made-to-order fabrics for bed linen and knitwear.
Akashdeep Singh comes from a family engaged in the textile business so he felt a vivid interest for the profession from a young age. Singh has been in Russia for more than 10 years and started his business in Russia in the aftermath of the economic crisis of 1998. In this interview, he talks to RIR about doing business in Russia and trends in the textile industry in the country.
What in your view are the unique features of the Russian textile market?
A peculiarity of the Russian market is that it's very dynamic, there are no standard notions like for example in England: every year a man would buy a gray jacket and gray trousers. In Russia there are no fixed traditions like this. People just wear things they believe to be comfortable, practical and fashionable. That's why it's necessary to constantly strive for development. If you fall a little bit behind, you can drop off market, it's hard to catch up with rivals.
That's why on the one hand Russian unpredictability is interesting but on the other hand it can be stressful. When the market is dynamic and interesting it allows one to earn well but to lose too. It's important to be very mobile and very attentive.
What difficulties have you come across working in Russia?
Difficulties of working in the Russian market are that for a producer, for someone who works here for a long time there is no data base, no long-time statistics based on which one can make forecasts on what people are going to like. Secondly, as with every developing market, there is no stability with the customs law. So it's hard to make definite plans for your actions. Thirdly, it has to do not just with Russia but with all the developing countries. There are rises and falls. And for a producer who is used to the European or Japanese market, a traditional market, it's hard to work.
Source: Personal archive
There is also a staff problem. Due to the fact that for a long time there was an interval in educating and developing it's difficult to find personnel. There are some university graduates with certificates but they don't understand much about real life. They have some theory base but no practice. There is no work experience as it used to be in the USSR where the graduates used to work at a factory or a plant after finishing studies. Another problem is that Russia doesn't follow the path of developing small and medium business. In most countries small and medium businesses occupy different levels of activities. In Russia people who get engaged in small and medium business have a hard time. It's no secret that every year in Russia many enterprises in the clothes industry are getting closed.
Why do you think such a high percentage of clothes sold in Russia are produced abroad?
There was no such high percentage of clothes produced abroad in Russia 15 years ago. But today we have such a high percent of overseas produced garments due to the fact that Russian producers lack necessary conditions, equipment, no education basis. The world is becoming a big village now. This niche is occupied by China, Turkey, partly Western Europe, and India.
What are the current trends in the Russian market?
It seems to me that now it's not the time to offer usual, standard things. We must try to surprise our customers. But now the market has progressed so much that it's much harder to do it. That's why every brand is trying to find its niche, its peculiarities. Men's clothes segment grows more or less because men in Russia are starting to pay more attention to what they wear nowadays. Women's clothes segment doesn't grow that fast. Children's wear is a promising segment. I hope with the introduction of a school uniform this segment will develop. We are dealing with the segment casual and smart-casual, and this type of clothes is in trend now. People don't want clothes to wear on just one occasion. People are becoming more mobile, they want to wear clothes for every occasion – they come to the office, then go to the party. So I think casual and smart casual segment is supposed to grow.Also there are specific segments – clothes of big sizes, clothes for pregnant women. They are developing but not very fast.
Source: Personal archive
Also, the internet changes the rules in the Russian clothes market now. First, people bought clothes in the open markets, they couldn't get it in shops. Then it was the turn of the big shopping malls. They partially killed the open markets because the latter was badly arranged and often illegal. So many customers switched to shopping centres where they had shopping, food and entertainment all in one place.
Now the third wave is internet. People don't have time to go to the shopping centre, they just order in the internet. Some brands suffer because the internet occupied their niche. Joint buying is the next modern trend. For example, a housewife Dasha lives in a small town, she gathers the orders from her friends, goes to a bigger city and buys clothes for her friends. This is a fast developing trend, and the next wave in the Russian clothes market. It will take time for this trend to develop but I think it will gain momentum.
All rights reserved by Rossiyskaya Gazeta.