IAF phases out MiG-21FL combat aircrafts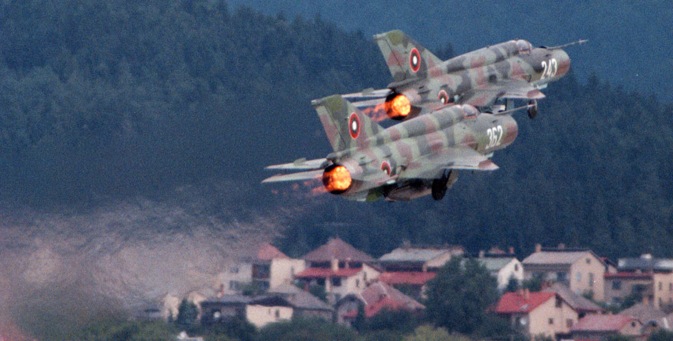 In April, India celebrated the 50th anniversary of the beginning of deliveries of Soviet MiG-21. Source: Reuters
At a special ceremony in West Bengal, senior air force commanders will bid goodbye to the aircraft that helped India win the 1965 and 1971 wars.
The Indian Air Force (IAF) will formally decommission all its MiG-21FL fighters from service at a special ceremonial parade on Wednesday, December 11, the Indian Ministry of Defence said. The ceremony, which will be held at the Kalaykunda Airbase in West Bengal, will be attended by IAF Chief N. A. K. Browne, one of the first pilots who flew the aircrafts that took the air force into the supersonic era.
Four MiG-21 FL aircraft flown by pilots from the Operational Conversion Unit in the northeast will fly a box formation. "Formations of MiG-27 ML and Sukhoi-30 MKI will also fly past in reverence to the legend of a fighter jet that remains the most widely exploited platform in IAF history," the Indian Ministry of Defence said in a press release.
The Soviet Union supplied the MiG-21FL to India in the 1960s, following which licensed production began in the country. By December 1971, the new aircraft were already in service in eight squadrons.
In April, India celebrated the 50th anniversary of the beginning of deliveries of Soviet MiG-21. The agreement was signed in 1962, and the deliveries began a year later. In 1967, Hindustan Aeronautics Limited presented the first MiG-21 to the Indian Air Force, which was produced under a license. India intends to withdraw all MiG-21s of various modifications – about 250 aircraft – from service by 2018.
Many commanders in the Indian Air Force began their flying careers with the MiG-21. "I flew on these fighters for more than 10 years," retired Air Marshal S. Krishnaswamy said in an interview with Itar-Tass. "This outstanding aircraft, according to the tactical and technical characteristics, was one of the best front-line fighters in many countries at the end of the 20th century."
As the current India Air Force Commander Browne confessed, he also "started his career as a pilot on the MiG-21, and then became a pilot of the "Jaguar" – co-production of France and Great Britain. "I am often asked how I could move from one machine to another," he said. "On this question my colleagues and I answered: 'We fly on other planes, but our heart is still with the MiG-21.'"
First published by Itar-Tass.
All rights reserved by Rossiyskaya Gazeta.