Russia, India to revive arms maintenance factory in Afghanistan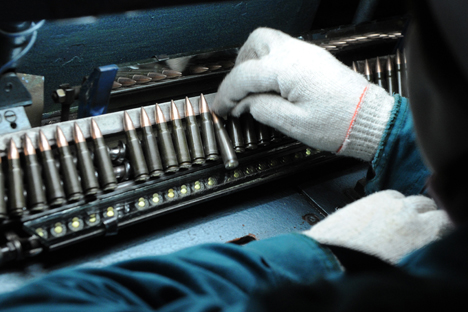 India and Russia will jointly help revive the maintenance factory. Source: Itar-Tass
Revival of the factory will be high on the list of priorities when Hamid Karzai visits India on December 12.
In a bid to step-up cooperation in Afghanistan, Russia and India will collaborate to revive an arms-maintenance factory in the country that has been devastated by wars and instability, the Indian Express reported on Tuesday.
"India and Russia will jointly help revive the maintenance factory. Experts have already met and are discussing the details," Afghanistan's Ambassador to India Shaida M Abdali told the paper. The hardware maintenance facility was built by the Soviet Union and is near Kabul. Several armaments from the Soviet days are still in the country and the ambassador told an Indian media briefing that the facility would be maintained by experts from Russia and India.
Revival of the factory will be high on the list of priorities when Hamid Karzai visits India on December 12. Ahead of the visit, Afghanistan has asked for a large list of arms. According to an article in The Daily Mail, the list includes 150 battle tanks, 120 (105 mm) field guns, a large number of 82 mm mortars and medium lift transport aircraft (AN-32). Sources told the paper that India would work closely with Russia and other powers to ensure stability in the country. "Afghanistan cannot be permitted to slide back into the tumultuous days of Taliban. An effort is being made to synchronize the rebuilding effort," sources told the Daily Mail.
Russia and India have many common interests in Afghanistan, the most important of which being keeping the Taliban from seizing power in the country. Together with Iran, they propped up the Northern Alliance, which comprised soldiers from mainly non-Pashtun ethnic groups like Tajiks, Hazaras, Uzbeks, Turkmen and others. It was the Northern Alliance which played a leading role in the ouster of the Taliban in the wake of Operation Enduring Freedom.
Russia also faces the danger of Islamic extremism emanating from Afghanistan which has already had an impact on Dagestan, Ingushetia and Chechnya. Many of these extremists were trained in Afghanistan during the heyday of the Taliban.
All rights reserved by Rossiyskaya Gazeta.