Young entrepreneurs as a spark for economic growth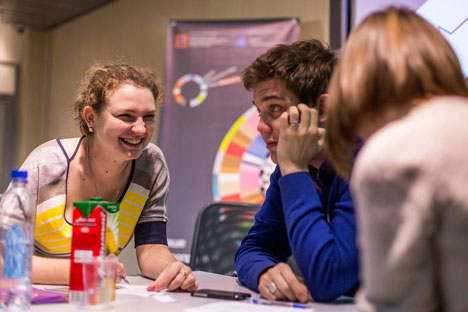 Young entrepreneurs attended more than 200 seminars, "round tables" and meetings. Source: Press Photo / Facebook
During the Global Entrepreneurship Week, young Russians were encouraged to innovate and design new startups to help reduce global unemployment.
More than 14,000 young entrepreneurs participated in Moscow's Global Entrepreneurship Week, organizers hoped would be the first step toward the formation of a new generation of entrepreneurs in Russia and a step towards the solution of the international problem of unemployment.
The event, which was held at the same time in 139 countries, came to the end on November 24 in Moscow. More than 200 seminars, "round tables" and meetings, in which 14,000 young people participated, were held in the Russian capital.
From March 17 to March 20, 2014, Moscow will host the Global Entrepreneurship Congress, a kind of Davos for small and medium businesses.
Guest speakers will included Michael Heseltine, British businessman who served in the government of former Prime Minister Margaret Thatcher; Van Gang, the Minister of Science and Technologies of China; Marc Ecko, fashion designer and global businessman; Terry Leahy, the former general director of one of the world's largest retail networks, Tesco; and many others.
"I am very pleased with the fact that this year we succeeded in organizing more than 50 meetings with entrepreneurs in schools," said Alexey Komissarov, the minister of the Moscow government, and head of the Department of Science, Industrial Policy and Entrepreneurship, which developed the forum. "If we do not tell students that business is awesome – the number of entrepreneurs in our city will not grow."
The Global Entrepreneurship Week held in Moscow can be divided into several parts. Yes, young people consciously visited business games and conferences, but hundreds inhabitants of the capital also took part in this project, without even being aware of it.
Participants of this event say that to draw conclusions is still early – the results demand careful studying, but it is already possible to note the considerable innovative potential of Moscow students.
"A few days ago, a competition was held for developers of apps for mobile devices. This involved the PayPal system, which is based in California," said Victor Sedov, the president of the Center for Entrepreneurship, the organizer of the Global Entrepreneurship Week in Russia.
"Developers from the world's 20 leading capitals participated. The No. 1 team came from Russia, which in 24 hours wrote the best program and received a check for $100,000. We keep trying to ensure that we have many more teams like that."
Johnathan Ortmans, the president of the Global Entrepreneurship Week (USA), said he decided to personally visit Moscow before the Global Entrepreneurship Congress, which Russia will host in March 2014.
By 2014, unemployment among young people, under 25 years of age, will reach about 73 million worldwide. This means, according to Ortmans, that new companies are needed more than ever.
Focusing on youth is no accident. Small and medium businesses, and in particular young, innovative startup firms now are becoming economic engines in the developed markets, Ortman said.
"New companies in the U.S. with less than five years in business, annually create about 3 million jobs, whereas old giants, on the contrary, lose up to 1 million employees," Ortmans said.
Small companies are striving to grow, and many of them are initially focused on introduction of advanced technologies into the production process and saving on labor costs. So, the personnel in such "clever firms" face lower risks in losing their jobs with the development of innovations, he added.
All rights reserved by Rossiyskaya Gazeta.