Russian Information Centre launched in Goa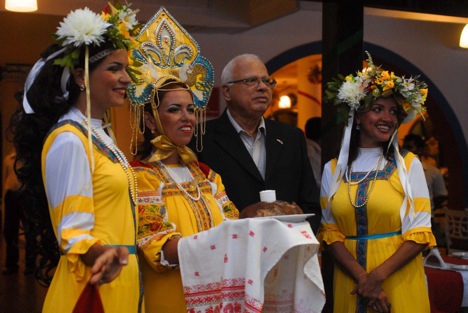 The opening ceremony itself had a Russian traditional feast. Indian guests were offered Russian traditional bread and salt. Source: Alexandra Katz
Russian tourists travelling to Goa for a short vacation and those living there during can now get round-clock information and assistance in Russian language.
The idea to establish a place where thousands of Russians coming to Goa every tourist season can get simple tourist guidance and more extended assistance in difficult situations, be it medical emergency or frequently happening passport losses, was a lingering dream both for Russian tourists and local businessmen.
Indeed the services like 'Goa Help' (which now has branches in Kerala and Cambodia too), an agency that helps Russians to rent a room or a bike, get a cab, have been working in Goa for quite some time. However, it's quite unlikely that these kinds of agencies would help a tourist, particularly for free, to deal with a lost passport or a suddenly aching tooth.
Source: Alexandra Katz
The Russian Information Centre in Goa was launched over the weekend under the auspices of Russian Consulate in Mumbai is planning to provide round-clock free help, in the Russian language, with general tourist-related inquiries as well as give true and reliable information to Russian citizens facing visa and passport related issues.
"Though we are not an official organization that can provide any legal help, we can help tourists with consulate numbers and contacts of lawyers. We hope to be really helpful for Russian tourists," Ekaterina Belyakova, managing partner of tour operator Tara, the founder of Russian information centre in Goa said.
She explained that a lot of tourists with expired visas or even lost passport entrust friendly locals who promise them to solve the visa or passport issue for a small (or sometimes large) amount of money. "Russian tourists should understand that no one except the Russian Consulate and trusted advocates can help in such situations," Belyakova added.
The centre's founders believe it will become a heart of Russian-speaking community in Goa and a single-window solution for tourists looking for accurate information on places to stay and dine, shop and party, explore culture heritage and enjoy the nature of Goa.
The centre is also planning to promote Russian culture and traditions and help Indians explore Russia's known and unknown travel destinations. It is planning to conduct various cultural events. For example, on the day of Russian Orthodox Christmas, January 7, the centre is organizing a special programme.
Lavish opening ceremony
The opening ceremony itself had a Russian traditional feast. Indian guests were offered Russian traditional bread and salt, blini (pankaces), olivie salad, dressed herring and other Russian starters along with freshly-made kvass.
Source: Alexandra Katz
The Russian Information Centre has also started publishing a Russian language magazine called Kraski Goa (Colours of Goa) the first issue of which was presented at the opening ceremony.
"It is not at all the first attempt to establish a Russian language publication in Goa, but all the previous publications were emerging and disappearing at once. Our magazine is going to stay there for long," Anastasya Gritsay, magazine Editor-in-Chief said.
Colours of Goa published monthly with circulation of 10,000 will be distributed both in Goa and in Russia and will be the only permanent publication in Goa completely in Russian language. The editorial team is planning to add articles featuring Russia in English too.
"When I first came to India in 2008, it was like a different planet for me. Though it is very interesting and challenging to learn and perceive India, it took me five years. Indeed I am still learning," Gritsay said. "Those who come here for a vacation have often only one or two weeks. That's why we created a magazine that will be focusing on Goa's culture, history, traditions, even norms and regulations apart from diverse tourism infrastructure, nightlife, shopping and fashion."
"They often say Russians in Goa are only drinking and taking drugs," said Victor Albuquerque, honorary consul of Russia in Goa. "It is wrong. There different tourists, of course, but it is a very small percentage of such tourists that spoil the image of the nation. Russia is a country which has great history and culture."
He promised he will try his best to help Russian tourists in Goa with whatever problems they face and will help promoting the centre that should play the major role in reaching out to Russians in Goa.
Last season (from November 2012 to March 2013) among 996 charter flights that landed in Goa 742 were from Russia. This season, according to Russian Consulate in Mumbai and Government of Goa's tourism department expectations, the number of Russian tourists will cross 200 000.
All rights reserved by Rossiyskaya Gazeta.