Easy to achieve to bilateral trade of $30-35 bn - FIEO president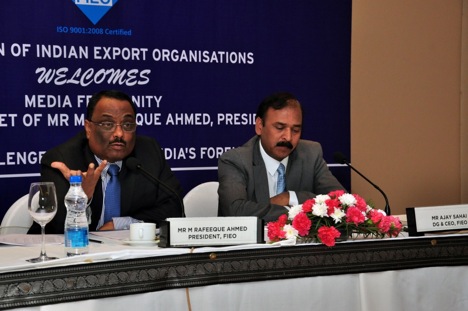 Rafeeque Ahmed: "The best advantage of Russia should come to India". Source: Alexander Tomas
Rafeeque Ahmed, Federation of Indian Export Organizations (FIEO) President talks with RIR about the potential of Indo-Russian trade and intra-BRICS trade in national currencies.
What are the bilateral mechanisms you feel can help to increase mutual trade between India and Russia?
I feel that Russia is very-very potentially growing market for India. $20 billion mutual trade target for 2015 is a small amount compared to the capabilities of India and Russia. The only thing is to understand the market. We should have much more interaction, delegations from India to Russia to understand the requirement of both countries. What is good for America and Europe may not be good for Russia. We need to understand that.
And also the problem is a little bit of banking sector. The banking sector should be eased out and recently we have had a meeting with Russia and other CIS countries` ambassadors in Chennai with a long discussion how to improve business on that. It`s good that a few Russian banks opened their branches in India. We invited those banks to see how to ease payment mechanism for India. If we settle this, trade flow will be much faster.
So you said $20 billion mutual trade target for 2015 is small. What is not a small amount?
First we have to reach $20 billion of mutual trade volume and then we can go up. But definitely anything between 30 to 35 billion dollars is an easy number that we can achieve at the present with Russia.
Sometimes it feels like investors from Russia and India are scared of each other? Which steps should be taken to attract Indian investors or exporters to Russia and Russian investors or exporters to India?
We should bring representatives for concrete areas of industry like textile - importers from Russia for the factories…Start the discussions what are the requirements of each other, then send delegations from India to Russia. We should go each items of trade and exchange between each other so can find the difficulties in each item. If you clear misunderstandings, India and Russia trade can grow manifold. Let`s first for example take five items of export, concentrate on them.
Nowadays BRICS countries discuss multilateral trade between them in national currencies. Do you find it`s possible?
We have seen the growth of trade in Chinese currency – yuan – three years back and now. Now trade is going on with many countries. Like that we should see inside the BRICS such a possibility. It`s possible if we will make it easier. Banks should understand each other and offer to the exporters – you can export with the BRICS countries in national currencies. That has to be done. That`s not impossible. Many countries are trying to do this and as I said China is very successful in pushing its local currency. Iran is doing a lot of business with yuan, other countries also do it. To achieve that everybody should cooperate.
India and the Customs Union of Belarus, Kazakhstan, and Russia are in talks for developing and then signing some kind of Free Trade Agreement - FTA plus or Comprehensive Economic Cooperation Agreement (CECA) between them. What in can bring these four countries?
It can only bring prosperity and benefits to these four countries. It`s a win-win situation. These four countries are very big. Kazakhstan is the best in the CIS. Russia, India and Belarus are advanced countries. Definitely this is going to be a benefit for us. The only thing we should push industry to trade, government can`t do the trade. Government should disseminate the information about the trade. Then it should be these four countries club – more visits and etc.
In which areas in India do you see prospects for Russia to come and participate?
A lot of Russian high technology can come to India. I have seen in Chennai how Russians are making the metro lines there. They have a lot of knowledge and technology in this area. Like that. The best advantage of Russia should come to India. Even the nuclear power is one of the prospective areas. One nuclear power plant Kudankulam should start once and then Russia should participate in more.
All rights reserved by Rossiyskaya Gazeta.