Russia, India need to consider direct oil and gas pipelines - Mani Shankar Aiyar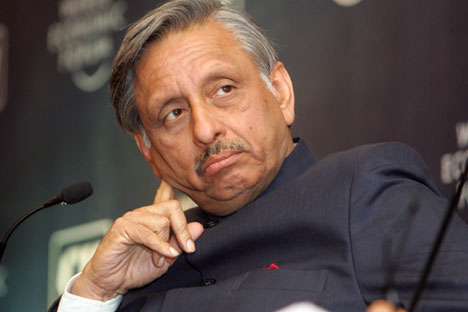 Mani Shankar Aiyar has been a proponent of greater cooperation between Russia and India in the oil and gas industry. Source: AP
India's former Union Petroleum and Natural Gas Minister says such a pipeline would open up bright prospects for both countries.
Russia and India should consider a project for a direct ground route to deliver oil and gas from Russia, India's former Union Minister for Petroleum and Natural Gas Mani Shankar Aiyar told Itar-Tass Tuesday. Such a move would open up bright prospects for both sides, he said.
A similar route for a gas pipeline was proposed when Aiyar was in office between 2004 and 2006. He added that India suffered a deficit of hydrocarbons, but closer ties with neighbours rich in the resources might help overcome energy problems. The idea of Asian oil and gas community with Russia's participation should be promoted, Aiyar said, adding that various routes of ground transportation were possible.
The idea was previously put forward by India's major Oil and Natural Gas Corporation (ONGC). "We are ready to discuss the details with the Russians," Vice President of ONGC M.K. Nair told Itar-Tass earlier the year. "The project is economically beneficial to both India and the Russian Federation. Moreover, it will benefit Afghanistan and Pakistan, and when economic prosperity is on the table, differences tend to be forgotten."
During the Indo-Russian annual summit in October, Russian President Vladimir Putin and Indian Prime Minister Manmohan Singh agreed to consider the project and establish a joint research group for this purpose.
The new pipeline would not necessarily be a part of the planned TAPI (Turkmenistan-Afghanistan-Pakistan-India) project, although it might run parallel to it. India has long advocated the politically forward-looking TAPI project. The project has been actively discussed since the 1990s. If built, it would stretch 1700 km with a capacity of 30 billion cubic metres of gas a year. Russia has been invited to take part in the projects, with Gazprom keen to construct the entire stretch of the pipeline.
Mani Shankar Aiyar has been a proponent of greater cooperation between Russia and India in the oil and gas industry. In 2004, when he held the petroleum and natural gas portfolio in Manmohan Singh's cabinet, he visited Sakhalin Island, where ONGC is a partner in the Sakhalin-1 project with Exxon and Rosneft.
First published by Itar-Tass.
All rights reserved by Rossiyskaya Gazeta.