Yamal LNG project appreciates in value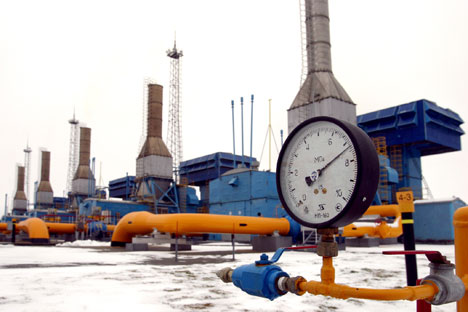 Yamal LNG is a project to construct a Liquefied Natural Gas (LNG) plant from the Yuzhno-Tambeysk gas condensate deposit, the reserves of which are 907 billion m3 according to PRMS - Petroleum Resources Management System standards. Source: Itar-Tass
The first phase of production will come on stream in 2017, and contracts have been finalised for the sale of 70 percent of the total LNG produced. An Indian consortium has been trying to secure a stake in the protect.
A final investment decision for the construction of a liquefied natural gas (LNG) plant in the Yamal LNG project has been taken by its board of directors. The cost of this project rose in comparison with previous estimates by 35 percent to $26.9 billion and the deadlines for its completion have been put back by a year.
Yamal LNG is a project to construct a Liquefied Natural Gas (LNG) plant from the Yuzhno-Tambeysk gas condensate deposit (the reserves of which are 907 billion m3 according to PRMS - Petroleum Resources Management System standards). Three phases are planned with an output of 5.5 million tonnes of LNG each per annum with attainment of projected capacity planned for 2018. Shareholders in this project are Novatek (80 percent) and Total (20 percent). An agreement has been reached with CNPC (for a 20 percent stake) in return for a share in Novatek.
The first phase of production will come on stream in 2017, and contracts have been finalised for the sale of 70 percent of total LNG produced. So far Yamal LNG has officially announced two contracts: with the Chinese company CNPC for 3 million tonnes per annum and the Spanish company Gas Natural Fenosa for 2.5 million tonnes per year.
An Indian consortium comprising of ONGC Videsh Ltd, Indian Oil Corp and Petronet LNG has been trying to get a stake in the project. They are competing with a Japanese consortium led by Mitsui and Mitsubishi. No formal decision has been taken by the project operator.
Besides the plant, transport infrastructure will be constructed including an airport, and a seaport close to the settlement of Sabetta. Until now principal tenders have been issued and key contracts have been agreed under this project. The contract to design and build the LNG plant (the EPC – Engineering Procurement Construction project) has been awarded to a joint Technip and JGC consortium. Orders have also been placed for equipment with a long lead-time. The construction site for the plant itself has been prepared and work on the pile substructure for the LNG reservoirs has already begun. Construction of the port and airport is at an advanced stage.
"This rise in costs is normal, we expected $25 billion in costs using our model," says Valeriy Nesterov of Sberbank Investment Research. He pointed out that recently all LNG projects have risen in value due to the increased demand for this type of raw material, the lack of specialists and the capacity of equipment manufacturers. Moreover in terms of specific unit production costs Yamal LNG remains one of the most efficient projects to be launched anywhere in the world in the course of the last two years: $1,640 per tonne of LNG as opposed to $2,290 Gazprom-operated for Sakhalin-2 and more than $3,500 for a number of Australian projects.
The Open Joint Stock Company Novatek is the largest independent producer of natural gas in Russia and the second biggest in terms of extraction volumes. The company is engaged in prospecting for, extracting and processing gas and liquid hydrocarbons. The company's deposits and licensed sites are located in the Yamalo-Nemetsk autonomous district. This is the world's largest region for the extraction of natural gas responsible for around 90 percent of natural gas extraction in Russia and about 17 percent of global gas extraction.
According to the Chairman of the Board of Directors at Novatek Leonid Mikhelson the Yamal LNG project is strategically important for the company in as much as helps take the company to a "qualitatively new level." He noted that the project is being realised within the confines of Russia's wider strategy to exploit the resource base of the Yamal Peninsula and increase production of LNG. The President of Prospecting and Research at Total Yves-Louis Darricarrere pointed out that: "A positive decision on the further realisation of the Yamal LNG project allows Total to increase its global project portfolio to maintain production levels over the coming decade beyond 2017. It also strengthens Total's position in a region of Russia, which has extraordinary potential in terms of gas reserves. Over the last few months the Yamal LNG project has advanced considerably and Total, having joined forces with Open Joint Stock Company Novatek applying all its expertise and doing all it can to ensure that the largest LNG project is completed on time."
Based on reports in Kommersant and Rbc.ru.
All rights reserved by Rossiyskaya Gazeta.