Kudankulam's first unit now producing 400 MW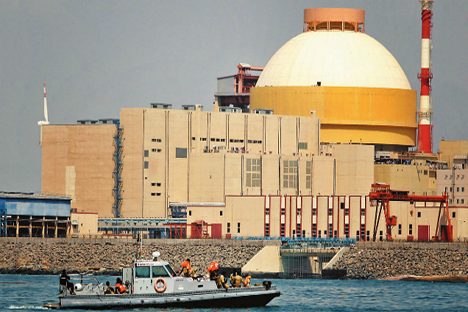 Talks on KNPP's third and fourth unit are in the final stage. Source: AP
Site director R S Sundar tells The Hindu that power generation from the Russian-built plant will to be increased to 750 MW by January.
The first unit of the Russian-built Kudankulam Nuclear Power Project (KNPP) is generating 400 MW of power, Site director R S Sundar told The Hindu. Sundar dismissed speculation in the Tamil media that the unit was yet to generate any electricity. Generation would be increased to 750 MW by January, he added.
Sundar told the paper that the unit was being operated exclusively by Indian engineers. The Kudankulam units comprise of 1,000 MW reactors of the VVER-1000 model being constructed by the Nuclear Power Corporation of India Limited (NPCIL) and Russia's Atomstroyexport company, a Rosatom subsidiary.
The first unit attained criticality in the month of July.
There are still on-going protests by local residents who are demanding the scrapping of the project citing the Fukushima nuclear disaster in Japan. After the protestors managed to halt work on the plant and blockaded the site for a year and a half, the Indian authorities forced them out. The protestors, believed to be funded by NGOs from overseas, also unsuccessfully attempted to get the Indian courts to stop the project.
Leading Russian, Indian and international scientific experts have vouched for the safety of the project. The experts have maintained that superior technology and exceptionally high quality equipment used in the reactors at the project made them unique in the global nuclear industry.
Russia is powering India's use of nuclear energy for peaceful purposes by being the foreign pioneer in the industry. Talks on KNPP's third and fourth unit are in the final stage. In total, India plans to build 19 nuclear power reactors with an aggregate capacity of 17,400 megawatts (MW) by 2017. Eight of these units will be built with the participation of foreign countries including Russia.
All rights reserved by Rossiyskaya Gazeta.