Vikramaditya refurbishment big boost to Russian defence industry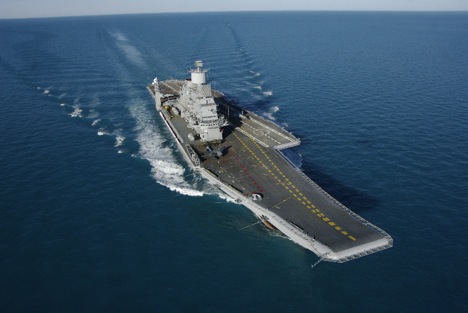 INS Vikramaditya can carry 30 aircraft, including fighters MiG-29K and helicopters Kamov Ka-27 and Ka-31. Source: Oleg Perov / Sevmash press office
A senior United Shipbuilding Corporation official sees tremendous potential for Sevmash to build new aircraft carriers.
Operations to convert Russian aircraft-carrying cruiser Admiral Gorshkov into Indian aircraft carrier INS Vikramaditya were a big boost to the country's defence and shipbuilding industry and helped revive the concept of creating such warships in Russia, Vice-President of Russia's United Shipbuilding Corporation Igor Ponomarev told reporters recently.
"The contract is unique. Contracts for such big warships are concluded once in a hundred years," he said. "Experience of refurbishing the Gorshkov is highly valuable for Russia. We have preserved designing potential, have set new tasks for new machinery and have brought together production potential of Sevmash military shipyard, which will have all powers to build new aircraft carriers. Meanwhile, we have yielded economic benefits under the contract," Ponomarev noted.
From the technological point of view, "we have preserved the designing potential of Nevsky design bureau in designing of aircraft carriers," Ponomarev added.
The vice-president of the United Shipbuilding Corporation noted that if in the Soviet times aircraft carriers were built only in Ukraine's Nikolayev, now "Russia is empowered to do it." "We at Sevmash, bringing together all cooperation ties, now have powers to build aircraft carriers in Russia," Ponomarev noted.
He noted that the promising machinery and avionics of the INS Vikramaditya differs substantially from the heavy aircraft-carrying cruiser Admiral Kuznetsov that is employed by the Russian Navy. "This is machinery of a new generation. So, we gave an impetus to development of all avionics and aviation-related equipment of the warship, which can be used to build Russian aircraft carriers in the future," Ponomarev added.
Meanwhile, this contract permitted to yield floating assets and preserve jobs, Ponomarev added.
According to the intergovernmental agreement signed in New Delhi in January 2004, the hull of Russian aircraft-carrying cruiser Admiral Gorshkov was handed over to India gratis under the condition of her modernization at Sevmash shipyard and her provision with Russian-made deck aircraft.
The Vikramaditya was supposed to have been passed to India in 2008, later this deadline was moved to December 2012 over higher amount of refurbishment onboard the aircraft carrier. The refurbishment cost grew sharply and, according to unofficial reports, went to around $2.3 billion (from the expected $1.5 billion).
After overhaul and reequipping at the Sevmash shipyard, the Vikramaditya's full water displacement became 45,000 tonnes with maximum length - 283.5 metres and maximum width - 59.8 metres (it was extended by 8.8 metres).
Now the warship can carry 30 aircraft, including fighters MiG-29K and helicopters Kamov Ka-27 and Ka-31. The crew is around 2,000 strong. The warship is provided with modern equipment and systems. The aircraft carrier was equipped with new navigation, radar, communications and aviation control systems. An absolutely new warship was actually created, the shipyard said.
First published in Russian by Itar-Tass.
All rights reserved by Rossiyskaya Gazeta.