Russia looking at joint defence enterprises with India - Vyacheslav Dzirkaln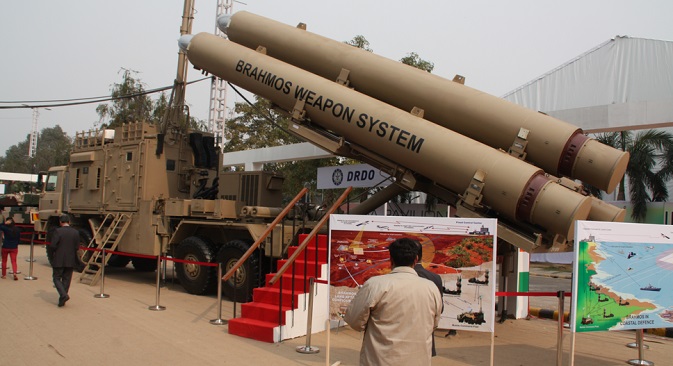 Vyacheslav Dzirkaln: "India is our largest partner in the military and technical cooperation sphere". Source: RIA Novosti / Vladimir Fedorenko
In an exclusive interview with RIR, Deputy of the Federal Service for Military-Technical Cooperation says Russia and India have moved on from a buyer-seller relationship and that the time has come for more joint projects.
This year, Russia continued being a major participant of the Defexpo India International Exhibition, offering a wide range of Russian defence products to its Indian partners. Vyacheslav Dzirkaln, head of the Russian delegation at the exhibition and Deputy of the Federal Service for Military-Technical Cooperation, talks to RIR about the development of Russia-India defence ties.
How do you assess the current state of Russian-Indian military and technical cooperation?
India is our largest partner in the military and technical cooperation sphere. This country has been a leader, in terms of co-operation, since 2007. Every year, the amount of cooperation keeps increasing. Thus in 2013, the volume of Russian arms deliveries to India amounted $4.78 billion, which is slightly less than one-third of total Russian armament exports last year. We continue to work with our partners. We have a number of big projects. As for Russia's participation in Defexpo India 2014 Exhibition, it has become a tradition with us. This year we have brought the greatest exposition ever. In total, 22 organizations, which include 48 companies, came to India. Our exhibition has been highly appreciated. I met with Indian Ministry of Defence leadership, who welcomed our participation at the exhibition.
Do you plan to sign some contracts or preliminary agreements with Indian partners during the Defexpo India 2014?
Preparation and signing of a contract is a long and painstaking job that takes much time. Of course, there is a practice when the final stages of negotiations are timed to a major exhibition. However, we do not set such goals for ourselves. Normal hard work continues. Representatives of Russian defence enterprises meet with partners, not only Indian, but also other foreign delegations. I am against the practice – when during the exhibition some reports are made claiming contracts worth billions of dollars were signed.
In which areas are the Indians showing the greatest amount of interest?
Firstly, equipment for the naval forces is worth a mention. The Indian side is now actively developing its industry and building a variety of ships, and we are actively involved in equipping these ships.
Serious work is also now being undertaken to establish the after-sales servicing of Soviet and Russian equipment, owned by the Indian Armed Forces.
What are the problems in cooperation in this area?
In principle, the current system of post-warranty maintenance of military equipment is constantly being improved, and here we would like to involve our Indian partners, including private business, in the servicing of equipment.
The Indian Ministry of Defence has long sought direct access to companies that produce spare parts for supplied Russian equipment, in order to reduce purchase prices. How is this issue regulated between India and Russia?
This issue is not new. For many years, the Indian side constantly raised questions of direct access to weapons or spares parts' enterprises, but we explain to our partners that Russia has one of the toughest laws regulating military-technical cooperation with foreign countries. Nevertheless, we are considering their interest. The number of companies that have the right to conduct spare devices repairs and supply is growing every year. Although this practice is justified, this does not mean that we will provide this right to all companies that our partners are interested in. There are our laws, and there is order. In particular, the Ministry of Industry selects these enterprises. There is a tough procedure for obtaining a license.
Last year, the INS Vikramaditya aircraft carrier was transferred to India. Have you agreed with the representatives of the Ministry of Defence of India on the post-warranty maintenance of the aircraft carrier?
Now consultations are being held on the post-warranty service of the carrier. Moreover, we plan to attract Indian companies that will take over some amount of the work.
The main theme of this year's exhibition was the development of the Indian defence industry and the increase of its role in supplying the Indian Armed Forces with military equipment and weapons. A K Anthony, Defence Minister, while opening Defexpo, also noted that this is the priority area of his department and predicted significant changes in the weapons market of the country in the coming years. How will Russia respond to such challenges?
Long ago, we reacted to these challenges. We already said that we have moved from the buyer-seller relationship to a fruitful cooperation. A striking example is the BrahMos joint venture. The bilateral cooperation in the field of high-tech weapons is developed, and the Indian side is also actively developing missile technologies. Earlier, we transmitted a number of licenses, relating to aviation, to India, when they were still making the MiG-21. Now they have mastered the licensed production of the Su30MKI aircraft. There are also other promising joint projects, such as the fifth generation fighter aircraft and multi-transport aircraft. I believe that this cooperation has potential and will continue. We will seek common ground, profitable to us and the Indians, and develop cooperation. We can say that Russia was one of the first countries to work on the transfer of technology to India, thereby strengthening its military-industrial complex. Russia is demonstrating an example of open collaboration. After all, we are committing very serious technology – armoured vehicles, multiple rocket launchers Smerch and GRAD. Moreover, we try to involve Indian companies in the post-warranty maintenance of our products.
All rights reserved by Rossiyskaya Gazeta.