Tor-MNKM anti-aircraft missile system unveiled at Defexpo-2014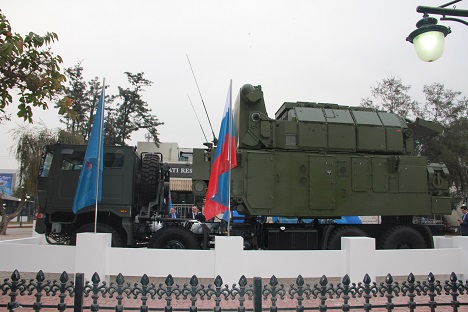 Tor-M2KM anti-missile system. Source: Alexander Nevara
Russia presented its newest anti-aircraft missile system for the first time abroad at the Defexpo-2014 exhibition in New Delhi.
Russia's Kupol Izhevsk Electromechanical Plant JSC (a subsidiary of Almaz Antey Concern PVO) exhibited its fully operational Tor-M2KM anti-missile system for the first time internationally. Visitors to the Defexpo-2014 exhibition held in New Delhi on February 6 to 9 were able to check out a real combat model, said Vyacheslav Kartashov, Kupol's assistant director for military-technical cooperation and government orders.
Source: Alexander Nevara
Tor-M2KM will undergo a series of tests this spring in connection with a tender announced by India for the purchase of two regiments of short-range air-defence missile systems.
"This is a real combat unit," Kartashov said. "In October, it was put through a whole range of tests, including cruising and firing tests. It was tested at Kapustin Yar range, went through cruise tests on a special track, and completed three combat runs against Saman targets. This is a real, battle-tested combat vehicle that our country can be proud to show at any exhibition. It is being exhibited outside of Russia for the first time. Russia is already offering it to its foreign customers."
Kartashov noted that the Tor-M2KM is "a fundamentally new type of anti-missile system that has a very wide range of applications -- from ground forces applications using the all-terrain chassis, to the stationary configuration, which can be installed on rooftops, on defensive structures of major cities, and at nuclear power plants."
"The main mission is to neutralize precision-guided weapons," a spokesman said. "It falls into the category of short-range weapons, and with these capabilities, no sane pilot would enter its kill zone. Therefore, the pilot will try to hit a target outside the zone, and our main target is anti-radar missiles, guided air bombs, cruise missiles of all kinds, including anti-ship (this module can be installed on decks and on low-tonnage ships). Its firing range is 15 kilometres and height is 10."
The Tor-M2KM is equipped with modern electronics and radar capable of detecting and handling up to 48 targets, displaying information on the 10 most dangerous ones and destroying four air targets simultaneously.
All rights reserved by Rossiyskaya Gazeta.