New Moscow airports look to attract budget airlines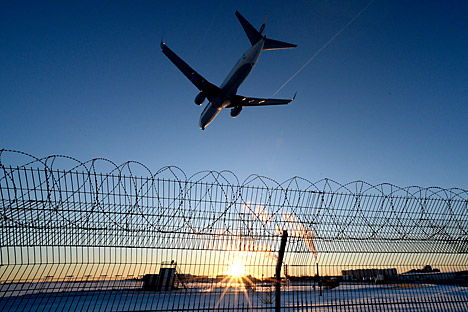 The Yermolino project is expected to break even by 2022 or 2023. Source: Maksim Blinov / RIA Novosti
Two upcoming airports in the outskirts of the Russian capital are competing to attract foreign low cost carriers that are looking to expanding operations to the country
Moscow may get a new airport by 2017 that will specifically cater to low-cost carriers. The project, which is estimated to cost 12 billion roubles (about $340 million), calls for turning the military airfield of Yermolino into a civilian airport that would charge airlines 30 percent less than the standard handling rates, which could help carriers lower their ticket prices. However, the airlines have to first convince travelers to make the journey to Yermolino, which is located 45 miles south of Moscow in the Kaluga Region.
Within the next four weeks, after the project's financing has been approved, a tender will be announced to select investors. The Defence Ministry is prepared to allocate 6 billion roubles for the modification of the airfield and the airport will remain the property of the Kaluga Region under a concessional agreement, according to Salavat Kutushev, CEO of the Yermolino International Airport managing company. Talks have already been held with several potential customers, including easyJet and Ryanair. "They are interested, particularly because Yermolino will be in a position to offer 25 percent lower handling rates than the existing Moscow airports," Kutushev said.
The Yermolino project is expected to break even by 2022 or 2023. More than half its revenues should come from restaurants and retail outlets. "We will attempt to apply the European model," Kutushev said. "Landside sales [commercial turnover] normally account for around 20 percent of Russian airports' total revenues, while in Europe they reach 60 percent."
Russian carrier UTair Aviation is already planning to base at least 20 to 30 Airbus A321 and Boeing 737 narrowbody airliners at Yermolino, which is expected to have a capacity of 7.5 million passengers in 2017.
Ramenskoye
The Yermolino project is attracting attention at the same time another initiative is underway to transfer the Ramenskoye military airfield into a commercial airport.
The primary investor in Ramenskoye, Avia Solutions Group, does not view Yermolino as competition. d Thomas Vaisvila, the company's deputy CEO for infrastructure said these two airports have different potential. Vaisvila noted that in many ways, Ramenskoye has the edge over Yermolino. Ramenskoye has two runways, 1.86 miles and 3.3 miles long, which would allow Ramenskoye to handle as many as 10 million passengers a year. Yermolino for its part has just one 1.86-mile strip. Additionally, assuming a high-speed rail link is built from Moscow to each airport, Ramenskoye would be 40 minutes from the city by train, compared to 90 minutes to Yermolino.
A spokesman from the Russian Transport Ministry said that the success of the airport projects "is entirely down to competition between the investors, and also depends on airlines' preferences."
Independent industry expert Andrei Kramarenko is optimistic about the possibility of new airports serving the Russian capital. "Russia does not have a single budget airline, so the very existence of two low-fare airport projects is amazing," Kramarenko said.
Based on articles from RBC Daily and Kommersant.
All rights reserved by Rossiyskaya Gazeta.