Concern Agat to cooperate with Pipavav shipyard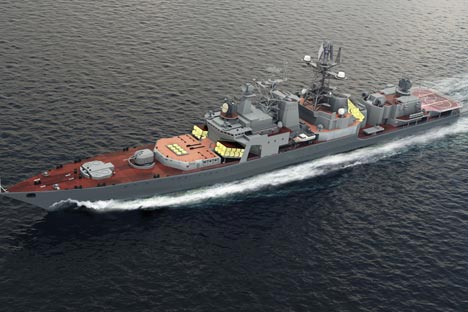 The Russian manufacturer of high-tech equipment for warships signed several memoranda of cooperation with the shipyard on marine shipbuilding and radio-electronic systems
Russian defence holding Concern Morinformsystem-Agat has signed several memoranda of cooperation with the Pipavav Shipyard, one of India's largest shipbuilding companies, Mariya Vorobyova, an Agat spokeswoman told RIR at the Defexpo India 2014.
"With Pipavav Shipyard we have signed several memoranda on various aspects of our activities, particularly on marine shipbuilding and radio systems, Vorobyova said. "We have ideas for joint development of new and more promising industries, such as robotics and high-speed surface shipbuilding. The Indian company is geared up for joint work. We have many common areas. A working group will be created, and we will work within it, while complying with Russian legislation.
She noted that Defexpo 2014 is the first international exhibition where Morinformsystem Agat presented itself as a single concern. "Our goal here is to restart our operations in India, taking into considerations that the country has adopted new principles of procurement. We started a new relationship with our traditional partners, we became acquainted with new companies, new businesses, including private ones," Vorobyova said.
Agat also held negotiations with well-known Indian shipbuilding companies like Mazagon Dock Ltd and is also eyeing cooperation with Defence Research & Development Organisation (DRDO).
Vorobyova said that instruments, developed by entities within the Morinformsystem Agat, are part of all the ships, transferred by Russia to India, including the INS Vikramaditya.
The organisation engages in a wide range of works - from manufacturing radar and sonar systems to designing the so called Combat Information and Control Systems (CICS) that control all kinds of maritime strike missile and artillery weapons, ship-borne and ground-based.
Source: Concern-agat.ru
Among export products produced by Scientific Production Association Agat, the core enterprise of the Concern, and other enterprises under Agat umbrella, are Club-S and Club-N Missile Ship-borne Firing Control Systems for submarines and for surface ships respectively, MR-123 and Puma (5P-10) Artillery Systems, radar Stations, combat Information and control systems for surface ships and submarines and Bal-E coastal missile systems.
All rights reserved by Rossiyskaya Gazeta.