Draft deal for Kudankulam units 3 and 4 ready- report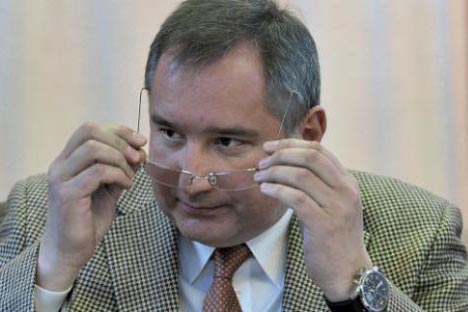 Russian Deputy Prime Minister Dmitry Rogozin. Source: RIA Novosti/Ruslan Krivibok
A final decision on the draft will be taken when Salman Khurshid and Dmitry Rogozin meet in New Delhi today, according to an Indian daily
A draft deal for the construction of the third and fourth units of the Kudankulam Nuclear Power Project (KNPP) is ready, the Deccan Herald reported on its website.
Sergei Kirienko, Rosatom's director general met officials of the Nuclear Power Corporation of India Limited in New Delhi to draft a text of the proposed techno-commercial agreement for KNPP's third and fourth units, the paper said. The report added that a final decision on the draft will be taken when Indian External Affairs Minister Salman Khurshid and Russian Deputy Prime Minister Dmitry Rogozin meet in New Delhi on Wednesday.
The agreement's draft text addresses Russia's concerns over applicability of India's civil nuclear liability law on KNPP's new units, according to the paper, which added that New Delhi is keen to ensure that American and French nuclear companies cannot cite it as a precedence to seek similar arrangement or atomic power plants they set up in India.
The vexed problem with KNPP's third and fourth reactors cropped up as result of the approval by Indian Parliament of the Civil Liability for Nuclear Damage Act in 2010, which allows the nuclear operator the right to demand compensation from a supplier in case faulty equipment causes an accident at a nuclear power plant. India wanted to bring the proposed units to be constructed at Kudankulam power plant, under the purview of the civil nuclear liability law. But Russia objected to the application of the civil nuclear liability law to these units, demanding that the same terms and conditions of KNPP's units 1 and 2 should also be applied to units 3 and 4. India chose not to apply the civil nuclear liability law to units 1 and 2, arguing that they were constructed under an original 1988 agreement - long before the 2010 Civil Liability for Nuclear Damage Act. The bilateral agreement on KNPP's units 1 and 2 puts the onus of any liability on the operator and there is no provision in it for recourse to suppliers.
Russia and India signed a protocol in 2012 in Moscow on KNPP's units 3 and 4 to extending a credit line of $3.4 billion, payable in 14 years, from the start of the power generation, at 4 percent interest annually. It is estimated that the total cost of these two reactors will be $6.4 billion.
All rights reserved by Rossiyskaya Gazeta.