Russia, India to sign deal covering all areas of cooperation – Rogozin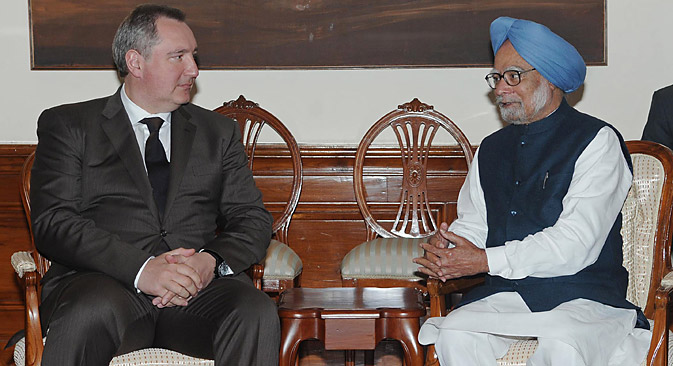 Dmitry Rogozin with Manmohan Singh. Source: AFP
The Russian Deputy Prime Minister, who co-chairs the Indo-Russian Inter-Governmental Commission on Trade, Economic, Scientific, Technical and Cultural Cooperation, talks about major bilateral projects and India's cooperation with the Customs Union.
The Indo-Russian Inter-Governmental Commission on Trade, Economic, Scientific, Technical and Cultural Cooperation (IRIGC-TEC) is one of the largest and most elaborate mechanisms India and Russia have with any country in the world. The commission focuses on increasing bilateral investment, in particular, the private investment and annual trade turnover.
Russian Deputy Prime Minister Dmitry Rogozin, a strong India hand who is co-chairman of the IRIGC-TEC, talks to reporters about how major Russian-Indian projects are progressing and about stepping up India's cooperation with the Customs Union.
Has the agreement on constructing the third and fourth reactors at Kudankulam nuclear power plant been approved? When do you expect it will be signed?
Negotiations are underway on this issue. We feel that the mood is improving, and we hope this issue will be resolved successfully. We believe that the current Indian government is fully capable of following the roadmap, which envisages the construction of a series of up to 14 to 16 Russian-designed nuclear units. We are talking about the Kudankulam plant and one other site that apparently will have to be decided on by national and regional Indian authorities. As for the second stage (the third and fourth units of Kudankulam plant), we are moving forward based on the reassuring position that Prime Minister Manmohan Singh demonstrated in Moscow. We hope that we will hear news in the near future that will justify our expectations.
Russia and India have identified some long-term goals for bilateral trade and economic cooperation. Could you tell us about them, please?
There are so many bilateral projects that they will require a whole series of separate agreements in various fields. There are already some agreements that are nearly completed, for example, the agreement on mutual recognition of higher education diplomas from the two countries, primarily in the field of medicine. We also discussed GLONASS, and believe that there is a lot of potential for cooperation in this area and in sharing aerospace services in general. This year will mark the anniversary of the flight of the first Indian astronaut, Rakesh Sharma. In connection with this, today we agreed to hold a series of consultations between space agencies primarily on actively involving our Indian partners in plans and projects that will form a joint aerospace corporation. In the near future, we think will sign a comprehensive agreement that will detail all of the specific projects we are working on. It will include military and civilian projects, especially considering that the two areas can sometimes overlap. This trip is also aimed at confirming the agreements we have already reached and giving impetus to future agreements while being mindful of the upcoming general elections. This is extremely important for us. We are convinced that Russia's ties with India are so multifaceted that our relations will not be threatened no matter what the outcome of the elections will be. The friendship between Russia and India is popular with the public.
As for complexities and sensitive issues, today we also openly discussed the titanium project. There are unresolved issues, such as the participation of Sistema joint stock financial company in the communications project (bidding for bandwidth). There are other issues that are keeping Russian investors up at night. How they will be resolved will determine if we can increase the number of projects in the future.
We are at the brink of resolving another important issue – setting up a Joint Study Group to look into the scope of the CECA (Comprehensive Economic Cooperation Agreement) with member-countries of the Customs Union, viz., the Russian Federation, Kazakhstan and Belarus. Here we will not be discussing Indo-Russian relations, but seeking consensus within the Customs Union itself. In general, we are pushing this work forward through the Eurasian Economic Commission. We don't have any serious concerns about this, so it is likely that after this issue is addressed, our trade volumes will increase significantly.
You mentioned a Russian-Indian agreement that would encompass all of the areas of bilateral cooperation. What exactly do you mean?
We came to the conclusion that we can bundle all of our projects into a major framework inter-governmental agreement. But so far, unfortunately, we have been running up against the fact that as soon as one project is underway, the next one has to be started, and it all has to be simultaneously. But we are talking about creating a kind of framework for agreements in different fields.
We've heard talk about constructing a pipeline from Russia to India. Do you think this project is feasible?
This is one of the largest infrastructure projects that could be conceived. I believe that it should be discussed, but its profitability should be calculated first.
All rights reserved by Rossiyskaya Gazeta.