Can Uralkali retain its customers?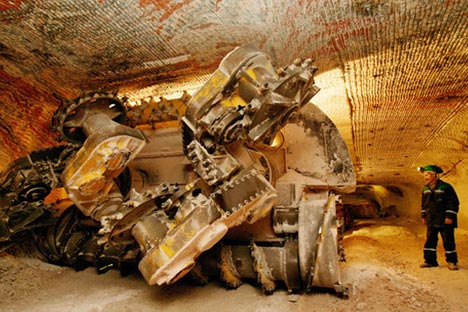 Belaruskali is undercutting Uralkali's prices. Source: www.uralkali.com
The Russian potash producer's former Belarusian partner has signed a supply agreement with PhosAgro at a heavily discounted rate. This is likely to have an impact on global prices
Belarusian potash producer Belaruskali, which has been in conflict with Russia's Uralkali since last summer, could deal its competitor a serious setback. The Belarusians will begin to supply potash to the largest Russian consumer, PhosAgro, who used to work with Uralkali. The Belarusians offered a price almost 25 percent below market price. Belaruskali might be able steal other customers from Uralkali as well.
Until mid-2013, Uralkali and Belaruskali collaborated on the potash market, and accounted for more than 40 percent of global sales.
PhosAgro head Andrei Gurev noted that after the Belaruskali and Uralkali consortium collapsed, Russian producers of compound fertilizers and agricultural products had the opportunity to buy raw materials from an alternative supplier and "chose the optimum supply conditions." PhosAgro, the largest consumer of potash in Russia, buys about 770,000 tons per year.
At Uralkali they reacted calmly to PhosAgro's decision to change suppliers, stating that their contract with the consumer was still in force. "We will make plans based on the new situation. If PhosAgro will not require a certain volume, we will sell it to someone else," Uralkali said. The average price of potash in Russia for the first nine months of 2013 was $192 per tonne, and the export price was $272.
"Belaruskali offered the Russian buyers a price that is below market price, so it is possible other Russian manufacturers of compound fertilizers may choose to contract with the Belarusian partner and not with Uralkali," said Anna Milostnova, an analyst at UFS IC.
Anna Bodrova of Alpari noted that after the Belaruskali and Uralkali consortium collapsed, compound fertilizer producers in Russia still had a high demand for potash, but the list of suppliers had shrunk. PhosAgro apparently offered flexible conditions, which for now is beneficial to both parties, believes the analyst, and Uralkali will have to offer the market something new or join a consortium again.
Uralkali is unlikely to offer a lower price, since the company still has an advantage in winning clients. "Even if Uralkali loses some clients on the domestic market, it can compensate for the loss by increasing its presence on export markets," said Anna Milostnova. Uralkali has stated several times that its priority markets are now in Latin America and Southeast Asia.
Based on a report in Kommersant
All rights reserved by Rossiyskaya Gazeta.