Ukraine crisis: India's CIS trade may be affected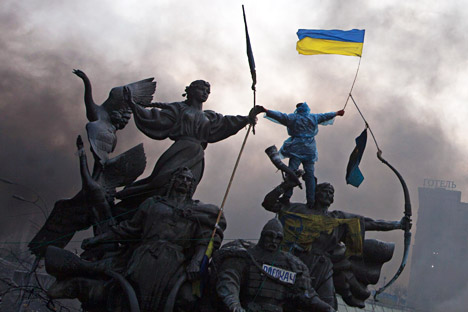 At the moment Indian exports are moving without any problem in the CIS. Source: Reuters
Ukraine is used as a gateway for Indian exporters to former Soviet republics and a prolonged conflict may lead to shipments getting stuck.
Senior bureaucrats in New Delhi feel the prolonged tension between Ukraine and Russia may affect India's trade with former Soviet republics, The Hindu Business Line reported on its website. Ukraine, which is India's second largest trading partner in the Commonwealth of Independent States (CIS), is used as a gateway to the region for Indian exports, the paper added.
An Indian Commerce Ministry told the paper that Indian shipments would get stuck if the Ukrainian borders were sealed. "Till now business to Ukraine and other CIS countries has not faced any problems. But it is a fast developing situation. If things worsen, trade would get hit," the official told Business Line.
Ukraine supplies India with edible oil, petroleum products and fertiliser and imports Indian medicines, according to the report, which added that bilateral trade between the countries was $3.15 billion.
India's Commerce Ministry has identified CIS as an important region for market diversification to reduce the country's dependence on traditional markets such as the US and the EU, the report said, adding that Indian exporters are offered incentives to export to countries in the region. At the moment Indian exports are moving without any problem in the region, the paper added.
India's guarded position
India, which did not comment on Russia's 2008 war with Georgia, is maintaining near silence on the Crimea conflict. Prime Minister Manmohan Singh and External Affairs Minister were in Myanmar for a regional summit. Indian External Affairs Ministry spokesman Syed Akbaruddin said, "We are closely watching the fast evolving situation and hope it will be resolved peacefully."
While India-Russia ties remain strong and the countries continue to increase bilateral and multilateral engagement, New Delhi's ties with Kiev have been affected by the latter selling arms and ammunition to Pakistan. It is however unlikely that India will take a strong position on the conflict.
All rights reserved by Rossiyskaya Gazeta.