Manmohan Singh's legacy for India-Russia relations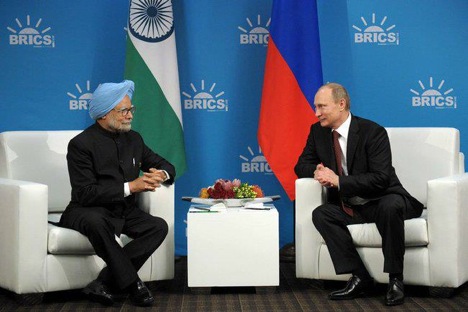 Singh acknowledges Russia as an important partner in shaping "an inclusive, cooperative and rule-based regional security architecture in the Asia Pacific region, which is also the thrust of New Delhi's Look East Policy." Source: Indian PMO
The general belief in Indian diplomatic circles is that a robust Russia is critical for maintaining geopolitical equilibrium in Asia.
With general elections being announced in India and Indian Prime Minister Manmohan Singh, 81, preparing to hand over the baton to his successor after helming the ruling United Progressive Alliance coalition since 2004, pundits are busy assessing the impact of his policies, especially foreign policy, the trajectory of his relations with India's neighbours and the legacy that he leaves behind for the nation.
Of special interest here is India's relationship with Russia which Singh has hailed as a "special and privileged strategic partnership that will continue to grow in strength and relevance in the changing world". Upon his visit to Moscow in October 2013 too, Singh had underscored the myriad aspects of Indo-Russian partnership covering everything from nuclear energy to cooperation in international matters.
Indeed Russia has been a key constituent in India's foreign policy under Singh. And the general belief in Indian diplomatic circles is that a robust Russia is critical for maintaining geopolitical equilibrium in Asia, a rule-based international system and multi-polarity in a world beset increasingly by ideological and political differences.
Currently the main pillars of Indo-Russian relationship established under Singh are strategic congruence, defence ties, nuclear power, trade and hydrocarbons. The long-term geopolitical interests of both Moscow and New Delhi are also compatible. The former's non-intrusive approach in sub-continental affairs, which acknowledges and respects India's sovereignty, is especially valued in Delhi.
Both countries also believe that the overarching principle in international relations should be one of peaceful co-existence, respect for sovereignty and non-interference in the internal affairs of countries. Singh also acknowledges Russia as an important partner in shaping "an inclusive, cooperative and rule-based regional security architecture in the Asia Pacific region, which is also the thrust of New Delhi's Look East Policy."
But perhaps the most pronounced bilateral cooperation has been in the field of defence. Russia is India's principal defense partner, offering - over the years - platforms and technologies that have fortified the country's defense capabilities.
Russia's pivotal role in India's civilian nuclear sector is showcased by the construction of two 1000 MW nuclear power plants at Kudankulam even before the country received its Nuclear Suppliers Group (NSG) membership. Even though the commercial negotiations for building two additional reactors at Kudankulam have been completed, the contract's finalization awaits resolution of issues raised by India's nuclear liability legislation
Indian and Russia also share an ambitious long-term plan of cooperation in nuclear energy. The two are drawing up a program of cooperation in hydrocarbons as well which can intensify their partnership in oil and gas and renewable energy sources.
Developments in Central and South-Central Asia – including Afghanistan - are of special relevance to the security of both Russia and India. Another area of importance is peace and stability in the Gulf and West Asia.
As the world becomes increasingly multi-polar, and emerging economies grow in strength, cooperation between Russia and India in multilateral forums, including the Group of 20 and BRICS, will assume greater importance. Converging interests in non-proliferation, cyber security and space security and Russia's support for India's membership of international export control regimes and permanent membership of an UN Security Council will add further ballast to bilateral ties.
However, despite numerous convergences, there are specific areas in which Singh's successor will need to work harder. Greater vigour, say analysts, is required to push bilateral trade and commerce which remains pegged at a modest $11 billion. At this rate, experts caution, the target of $20 billion by 2015 may well-nigh be unachievable. In contrast, despite serious political differences, India-China trade relations have flourished, expanding to nearly $70 billion in 2012, making China India's largest trading partner in goods.
India has lately also been looking at new vendors like the US and Israel for its military hardware which has been a source of consternation for Moscow. India needs to reassure Russia concretely that such developments will not be at the latter's expense.
"New vendors for military hardware do have the potential to impact our relations with Russia," says Dr. Prateek Bhambri, a defence analyst. "Russia's primary concern would be the erosion of its dominant position as our defence partner as we increase our acquisitions of other imported defence equipment."
India's challenge then is to build a larger edifice of relations with Russia on existing strong political and security foundations by striking a balance between competing interests. New Delhi's foreign policy triumph lies in placing bilateral relations within the framework of a strategic partnership, and investing substantially in economic, cultural and people-to-people exchanges, something in which both nations have an immediate and a long-term stake.
At a time when regional geopolitics is fraught with tension, deepening engagement with each other seems prudent for both nations while charting out a long-term and sustainable plan for enduring cooperation and mutual benefits.
Neeta Lal is a New Delhi-based journalist .
All rights reserved by Rossiyskaya Gazeta.