Russian Helicopters to deliver "jubilee" Mi-17 to India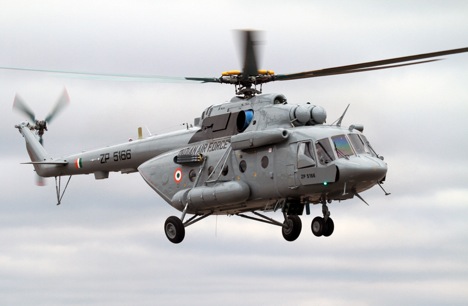 The Mi-17V-5 helicopters supplied to India belong to the Mi-8/17 family. Source: Press Photo
The Kazan factory of Russian Helicopters built the 3500th export model of the Mi-17 series, which will be sent to India as part of a 2008 deal.
Russian Helicopters' 3500th export special "jubilee" model of the Mi-17 will be delivered to India, as part of a 2008 sales agreement. India had purchased 80 helicopters from Russia for $1.375 billion.
"Today, the Russian side has completely carried out its obligations in relation to this," Russian Helicopters said in a press note. "In 2012-2013, additional agreements were signed for the supply of 71 vehicles, which the holding company Russian Helicopters is producing in accordance with the agreed upon timeframe." In December 2012, India purchased the additional helicopters for $1.3 billion during Vladimir Putin's visit to New Delhi for the 13th annual summit.
"South and Southeast Asia are key regions for the promotion of Russian made equipment," Russian Helicopters Chief Executive Alexander Mikheev said. "Our helicopters are well-known here and in constant demand. Today about 250 helicopters built in our enterprises are in operation in India. They are used for executing combat training tasks, hauling people, carrying out search and rescue missions or medical-evacuation operations and in emergency situations. Thanks to their unique characteristics and preparedness for even the most severe environmental conditions, they can handle any tasks set before them perfectly."
When the Indian state of Uttarakhand was hit by floods in June 2013, the Russian-made military transport helicopters rescued stranded pilgrims. Last month, Mi-17V-5 helicopters evacuated some 200 residents of Indian villages in the northern state of Jammu and Kashmir, which had been cut off from the rest of the country as a result of a sudden cold snap and heavy snowfall.
The Mi-17V-5 helicopters supplied to India belong to the Mi-8/17 family. "They are created by taking into account the best design developments of prior generations," Russian Helicopters said. "All the helicopters are equipped with the KNEI-8 navigation, information-display and cueing systems and the new autopilot PKV-8, which reduces the load on pilots and provides a full array of flight information for the solution of the most complex problems. In addition, the helicopters supplied to India are equipped with powerful engines that significantly expand their capability for hauling heavy and bulky loads, especially in conditions characteristic to the northern highland region of India."
Soviet and Russian made helicopters have been employed successfully in India for more than half a century. The first Mi-4's were delivered in January 1961. Over the past decade, Mi-26, Mi-24/25/35, and Mi-8/17 helicopters have also been supplied to India.
All rights reserved by Rossiyskaya Gazeta.