Last month, the 30-year marriage of Russian businessman Vladimir Potanin and his wife Natalya was formally dissolved at the Presnensky Magistrates' Court in Moscow.
As part of the settlement, Potanin, who occupies 7th place on the Forbes list of Russian billionaires and has a fortune estimated at $14.3 billion, is required to pay child maintenance for the couple's child.
The media already has information that the child maintenance payment in question is about 8.5 million roubles ($235,000) a month, but Natalya Potanin's attorney, Philip Ryabchenko, has not confirmed the figure.
"The amount of child support is set at a quarter of earnings and any other income," said Ryabchenko. "Mr. Potanin has not yet provided information on the amount and sources of his earnings and income, so no payments have been made yet." Thus, the final amount of the alimony may differ from the above stated figure of 8.5 million.
As soon as he was granted the divorce, Vladimir Potanin filed a claim for division of property at the Presnensky District Court in Moscow.
According to the attorney of the businessman, Marina Ivanova, in accordance with their suit, the former spouse may receive about 2.5 billion roubles (about $76 million) in real estate and money.
Natalya Potanin therefore stands to be awarded "almost all the family property and a large amount of cash," said Ivanova.
Mrs. Potanin's representatives have not yet received court orders or copies of the claim, but are confident that in fact the aim of Potanin's claim is not to divide his real estate, but is intended to prevent the other side from coming up with a similar claim.
Potanin's wife looks for hidden assets
In addition, Potanin's ex-wife claims that she is entitled to more money. "From the comments of Potanin's attorney, we can conclude that Mr. Potanin agreed to give his wife no more than 0.5 percent of the entire enormous family fortune," said Riabchenko.
"Given that such a proposal cannot be called honest, and considering that Potanin has been hiding the exact composition and structure of his property from his wife, we are taking measures to request the disclosure of this information," said Riabchenko.
Mrs. Potanin's attorneys have already initiated their search for the assets of her former spouse abroad, and U.S. courts have allowed the search for assets in five states. Vladimir Potanin's representation has declined to comment on the situation.
Let's recall that a year ago Potanin announced that he had decided to donate his fortune to charity, joining the so-called "Oath donation" (The Giving Pledge), a club of billionaires created by Bill Gates and Warren Buffett.
Under the rules of the club, its members donate at least half of their fortune to charity, and pledge not to transfer capital via inheritance.
Commenting on his decision, Potanin said that he was giving his money away so that his children would not be left unmotivated in life by possessing a great fortune. However, according to experts, sometimes donations are one way of asset stripping.
The divorces of oligarchs are almost always time bombs.
At a certain point, one of the parties may resume proceedings, as has been the case with the head of steel and mining company Severstal, Alexei Mordashov (estimated fortune of $12.8 billion, 11th on the Forbes list). He divorced his wife Yelena in 1996.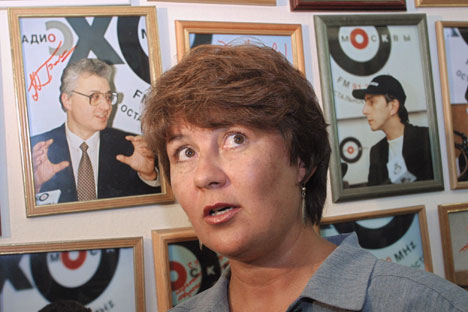 After divorce, Yelena Mordashov got not only apartment in Cherepovets, but also one third of the Severstal shares. Source: Kommersant
According to their agreement, Mordashov had monthly payments of 300 euros ($415) for his son and another for $6,000 per year.
In addition, Yelena got a two-bedroom apartment in Cherepovets and property valued at about $10 million. With this agreement, she relinquished her rights to their other property.
However, five years later his ex-wife decided to revise these terms. In 2001, Yelena turned to the Nikulinsky District Court in Moscow, demanding 32.5 percent of the shares of Severstal, a quarter of Mordashov's monthly income and more than half a billion rubles as alimony.
At that time, in the proceedings of the claim, even shares in Severstal were frozen. However, during the proceedings, Mordashov proved that the bulk of his income was received after the divorce.
The oligarch's former wife lost the claim and the court requested from her estate a fee of 1.5 percent of the value of the claim. Elena ended up owing the state 213 million roubles (of which bailiffs managed to recover only about half a million).
Mordashov was inclined to believe that the attack from his former spouse was encouraged by his rivals. Whether they like it or not, precedent has shown that for oligarchs, parting with former spouses may be a multi-part thriller.
An exemplary divorce
Perhaps the most happy "female" divorce story is that of Irina Abramovich, the ex-wife of billionaire Roman Abramovich. The entrepreneur, whose fortune is estimated at $10.2 billion (13th on the Forbes list), was the most generous.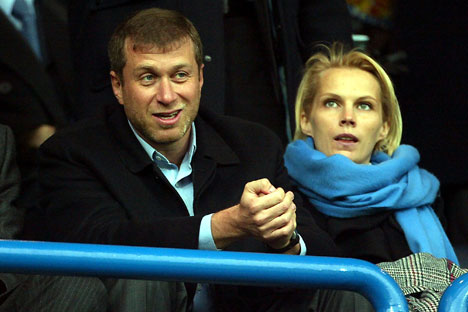 Roman Abramovich's billions will need to be split among seven children (five from his previous marriage and two more born to his current flame, Darya Zhukova). Source: Reuters
The divorce with Irina, with whom the entrepreneur had lived for 16 years and from whom he has five children, cost him $300 million and the payment of all expenses of the children.
In addition, Irina received a mansion in the county of West Sussex, two London apartments and a castle in France.
The business was completely left to Abramovich. However, his ex-wife seems to have no complaints towards him. But such cases are more the exception rather than the rule.
First published in Russian in the Profile magazine.
All rights reserved by Rossiyskaya Gazeta.