The future of Crimea's Ukrainian military assets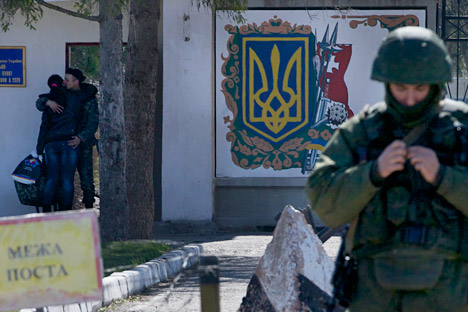 Ukrainian armaments and military hardware, including those deployed in Crimea, have not been upgraded since the fall of the Soviet Union. Source: AP
Many positive developments are expected in the peninsula as it integrates to Russian systems, although some serious problems remain as well.
The Republic of Crimea and the city of Sevastopol have returned to Russia. It has already been announced that local public sector employees will be paid the same salaries as their colleagues in other Russian regions, that veterans' pensions will more than double, and that local schools and universities will switch to Russian curricula. Many positive developments are expected in the republic, although some serious problems remain too.
What will happen to Ukrainian military hardware?
There are a large number of pieces of Ukrainian military hardware left in Crimea. These include, according to various estimates, at least 30 warships and auxiliary vessels, some 150 APCs and 50 tanks, 60 MiG-29 fighters and L-39 trainer aircraft, about 20 helicopters, some 60 S-300 surface-to-air missile systems, and about 40 Buk-M1 and Tor medium- and short-range surface-to-air missile systems as well as coastal defense systems… It is hard to say whether all this "legacy" will be of use to the Russian Armed Forces.
Ukrainian armaments and military hardware, including those deployed in Crimea, have not been upgraded or replaced for the past 20 years. According to Ukrainian military pilots themselves, out of the 40 MiG-29 fighters based on the Belbek airbase outside Sevastopol, only five are still flightworthy.
The condition of Ukrainian naval and auxiliary ships is another story. At the moment, most of these vessels are trapped in Sevastopol's bays. For instance, exit from Strelets Bay is hindered by a pontoon and booms that are blocking the corvettes Ternopol and Lutsk, the command and control ship Slavutich and Ukraine's only submarine, Zaporozhye.
A number of ships are moored at the Yuzhnaya naval base on Lake Donuzlav near Yevpatoria, meanwhile. These include the large amphibious ship Konstantin Olshansky, the medium landing ship Kirovograd, the corvette Vinnitsa, the transport ship Gorlovka, the minesweepers Chernigov and Cherkassy, the harbour minesweeper Genichensk, and a dozen more vessels. They cannot reach open sea since their path is obstructed by two old ships that have been deliberately sunk to block passage.
These can of course be lifted to the surface, but that would require considerable time and money. It also raises the question of who will pay for it. If Moscow decides to return the blocked ships to Kyiv, then the associated costs would have to be borne by the Ukrainian Navy, while if the vessels remain in Crimea, then the Russian Black Sea Fleet will have to foot the bill.
At the very least, all this will be subject to negotiations. However, after the seizure by the new Ukrainian authorities of several dozen Russian KamAZ trucks intended for Kazakhstan, the future of the Ukrainian ships locked in Sevastopol bay is not as clear as it may seem.
It should be noted that some of those ships are rather old and are in need of serious repairs and modernization. But these matters can be addressed only after the fate of the vessels has been decided.
As to where these ships, as well as those of the Russian Black Sea Fleet, can undergo repairs, that should not be a problem. Crimea has several quite decent, albeit rundown, ship repair and shipbuilding facilities, including shipyard No. 13 in Sevastopol, Zaliv in Kerch and More in Feodosiya.
However, the Sevastopol plant, which formerly employed 12,000 people, now has a staff of just 200. Until recently, it did not even take commissions to repair Black Sea Fleet ships, so the Russian Navy had to have its ships repaired in Bulgaria, which had become a NATO member.
Incidentally, the quality of the work done by the Bulgarians was far superior to that of their Crimean counterparts. Now that salaries and wages on the peninsula are expected to rise to the average Russian level, one might hope that Crimeans' attitude to work will change too.
All rights reserved by Rossiyskaya Gazeta.