India to import potash from Uralkali at heavily discounted rate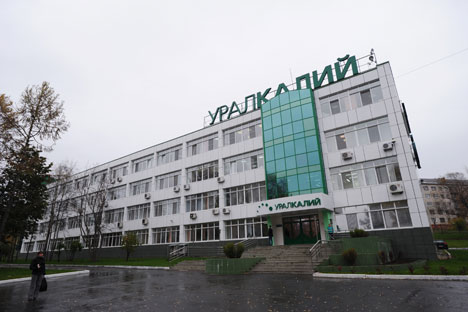 India is a strategic market for Uralkali. Source: Pavel Lisitsyn / Ria Novosti
The Russian potash producer will supply India Potash Limited 800,000 metric tonnes of potash at $322 per tonne on a CFR basis.
Russia's Uralkali, one of the world's largest potash producers, said on Tuesday it concluded a contract with Indian Potash Limited (IPL) for potash deliveries between April 2014 and March 2015. The rate of $322 per tonne on a cost and freight basis (CFR) would be around 25 percent less than what it supplied to the Indian company last year. Last year Uralkali charged India $427 per tonne.
"Uralkali's volumes under the contract will total 800,000 metric tonnes of KCl (potassium chloride)," the company said in a statement. The deal is effective April 1 and for the 2014-15 financial year.
"Today's agreement is a mutually beneficial one," Oleg Petrov, Uralkali Director of Sales and Marketing, said. "India is a strategic market for Uralkali, and IPL is our long-term partner. We hope that the contract will help stimulate potash application rates in India, and support the country's agriculture at the time of continued population growth and rising food demand. We expect that the conclusion of the Indian contract will boost the global potash market growth."
Prices started crashing last year with the advent of a Russian-Belarusian potash war, when Uralkali announced it was pulling out of a partnership with Belaruskali, and, in particular, terminating joint sales of fertilizer through the Belarusian Potash Company (BPC).
Then the whole marketing strategy of Uralkali completely changed. Previously, the company exported fertilizer on the principle of "price before volume" and preferred to reduce production volumes rather than give consumers a discount. The Russian company then announced it would increase production capacity to 100 percent. Belarus even detained and arrested Uralkali Chief Executive Vladislav Baumgertner last year, before sending him back to Russia.
India and China are the world's largest consumers of potash. Despite the lower prices offered to IPL, it is unlikely that there will be a spike in the demand for potash as the Indian government reduced the potash subsidy by almost 20 percent to reduce its fiscal deficit, industry sources told RIR.
India's potash imports stood at 3 million tonnes in 2013-14.
All rights reserved by Rossiyskaya Gazeta.