Will privatization projects slow down this year?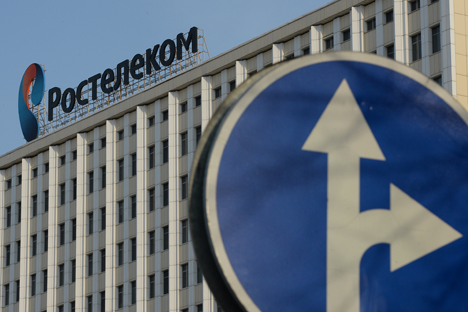 Russian state telecom holding Rostelecom was supposed to go on sale this year. Source: RIA Novosti
On account of geopolitical tensions, analysts believe there will be fewer privatisation deals this year than in 2013.
Russian officials have long been planning to transfer tens of billions of dollars of state assets into private hands, and as recently as last winter, hopes had been running high that 2014 would be a banner year for privatization sales. However, analysts believe tensions with the West over Crimea may put a dent on those plans.
"I think that privatization sales or IPOs of Russian state companies will be postponed at least until the end of the third quarter of 2014," says Pavel Vasiliadi, Director of the Analytics and Risk Management Department at the UFS Investment Company in Moscow. "Because of events in Ukraine, we'll probably see fewer privatization deals this year than in 2013, when there were 156."
None other than Prime Minister Dmitry Medvedev announced that the state hoped to sell over $5 billion worth of assets before the year was out, with much more to come in 2015 and 2016.
"The purpose of privatization should not be to raise money but to create market competition in sectors formerly owned by government," says Maksim Shein, head of the Investment Department at BKS Financial Group. "This is much more important. A bad market is not a convincing argument for postponing this step. Privatization can contribute to improving the investment climate."
Others said while Medvedev's ambitious goal might not be achieved, it at least underscored the seriousness of the state plans.
"The goal to raise $5.5 billion dollars in privatizations would be problematic even without the events in Ukraine," says Yuriy Simachev, deputy director of the interdepartmental Analytical Centre in Moscow. But an inability to raise top dollar on the sales "shouldn't become a hindrance to action under current market conditions."
On paper, the current privatization plan sets lofty goals. The government expects that, by 2016, it will complete the process of exiting non-oil sector companies that are not related to resource monopolies and the defence industry.
The Russian government currently owns stakes in over 2,300 companies. Of those, about 1,200 are entirely under government control. The rest have some private ownership already.
Assets on the block
Among assets tagged for sale in 2014, Russian Economy Minister Alexei Ulyukayev has pointed to Sovkomflot, Russia's largest maritime shipping company, which specializes in transporting oil and liquefied natural gas.
One of the biggest sales of the year might be in the telecoms sector. Russia might raise 150 billion roubles from selling a stake in Rostelecom, the country's leading fixed line provider, said Olga Dergunova, head of the State Property Agency.
Ulyukayev also said the Central Bank of Russia might sell its stake in the Moscow Stock Exchange, and told a government meeting in January that the state could carry out a sale of 5 percent of Russian Railways, according to Interfax.
State alcoholic beverage company Rosspirtprom — which, yes, makes vodka — is set to be fully privatized by the end of 2016, according to the government's plan.
Other assets to be sold include shares in Rusnano, the multi-billion dollar nanotechnology fund set up by the government to help stimulate the high-tech sector. Additional shares are also to be listed in Aeroflot, Russia's largest airline and the legacy firm of the Soviet national carrier.
Oil for sale
The state is eventually planning to widen investor access to the crown jewel of Russia's oil industry, Rosneft.
Rosneft has emerged during the post-Soviet era from being a minor player to become the world's biggest oil producer, responsible for four out of every 10 barrels of crude that Russia produces. Rosneft already accomplished a colossal $10.4 billion IPO in 2006.
Information from a report in Kommersant Dengi was used in this article.
All rights reserved by Rossiyskaya Gazeta.