Sukhoi to set up India maintenance facility for Su-30MKI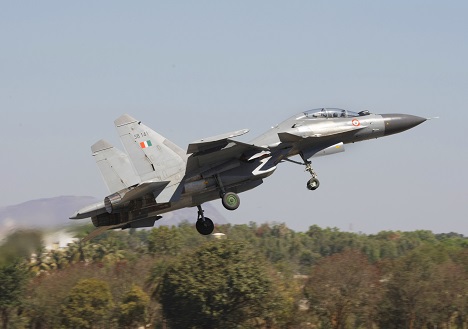 There is a deep modernization program of the Su-30MKI program, which would retain the aircraft's efficiency and superiority for many decades. Source: AP
Senior Irkut official tells defense website that the reports on maintenance problems for the aircrafts were aimed at discrediting the program.
A facility to repair and maintain Su-30MKI aircrafts will be set up in India, Vitaly Borodich, senior vice-president, Irkut Corp told the Defense World website. "The immediate task before us and HAL (Hindustan Aeronautics Ltd)is the setting up of an overhaul facility for Su-30MKIs in India," Borodich told the website. "Necessary documentation and equipment has been shipped to HAL by now. According to plans of the IAF, a certain number of aircraft have to be overhauled during this year which I believe HAL will make this happen and we are there to support its efforts."
Borodich told the website that it was challenging to master operational serviceability of the aircraft with the number of bases where the Su-30MKIs are deployed are increasing. "As of today, Indian and Russian experts are focused meeting this challenge in the shortest possible time," he said. The IAF has stationed the fighter aircrafts in places as diverse as the northern state of Punjab and the southern state of Tamil Nadu.
"At the moment, together with the IAF, HAL and Indian industries, we are implementing a set of measures aimed at improvement, additional flexibility and optimization of the whole system of technical maintenance and overhaul, supplying the necessary equipment to an increasing number of combat units," the Irkut Corp official told the website.
When asked a direct question on India media reports that claimed that there were maintenance problems with the aircraft Borodich said the reports were based on leaked conversations and selectively made public by the media. "We suspect that it may be part of an operation aimed at discrediting the Su-30MKI program," he told the website. "I'd better leave it to your readers' speculations on who gains by this negative projection."
Borodich said there is a deep modernization program of the Su-30MKI program, which would retain the aircraft's efficiency and superiority for many decades. "The proposed modernization includes avionics and armaments," he told the website. "Technologies for 'deep modernization' are really available and may be implemented within a short period of time." Borodich added that Irkut was considering the use of the BrahMos missile by the Su-30MKI.
All rights reserved by Rossiyskaya Gazeta.