India, Russia sign Kudankulam 3 and 4 agreement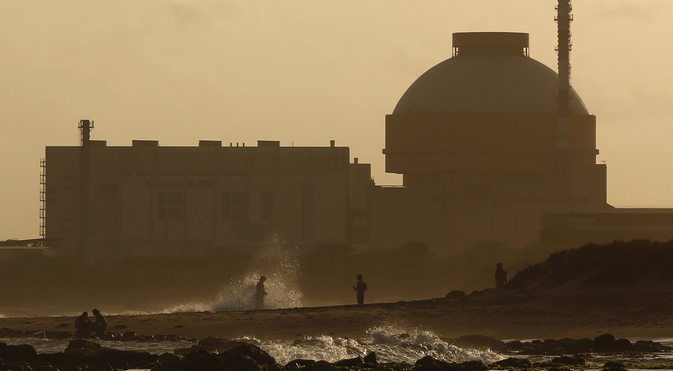 India and Russia had planned on signing an agreement for the units as far back as December 2012. Source: Reuters
The cost of the two reactors, which come under India's civil nuclear liability law, is around $5.5 billion, according to an Indian media report.
Russia and India signed an agreement for building the third and fourth units of the Kudankulam Nuclear Power Plant (KNPP), PTI news reported citing sources. The cost works out to Rs 33,000 crores or $5.5 billion, the news agency said.
A general framework agreement was signed between the Nuclear Power Corporation of India Ltd (NPCIL) signed a general framework agreement with representatives of Rosatom, according to the report.
The new units will come under the purview of India's Civil Liability Nuclear Damage Act 2010, something that took months of negotiations. Last month, India's Department of Atomic Energy secretary R K Singh and other senior office held a meeting with Russian counterpart to achieve a breakthrough, according to the PTI report.
The long-standing problem with KNPP's third and fourth reactors cropped up as result of the approval by Indian Parliament of the Civil Liability for Nuclear Damage Act in 2010, which allows the nuclear operator the right to demand compensation from a supplier in case faulty equipment causes an accident at a nuclear power plant. India wanted to bring the new KNPP units, under the purview of the civil nuclear liability law. But Russia objected to the application of the law to these units, demanding that the same terms and conditions of KNPP's units 1 and 2 should also be applied to units 3 and 4. India chose not to apply the civil nuclear liability law to units 1 and 2, arguing that they were constructed under an original 1988 agreement - long before the 2010 Civil Liability for Nuclear Damage Act. The bilateral agreement on KNPP's units 1 and 2 puts the onus of any liability on the operator and there is no provision in it for recourse to suppliers.
India and Russia had planned on signing an agreement for the units as far back as December 2012 when Vladimir Putin visited India for the annual summit, but the countries could not find common ground on the law and the costs until last month.
Last week, Sergey Kirienko, head of Rosatom said the Russian company would construct a total of 6 units at Kudankulam and a total of 20 across India.
All rights reserved by Rossiyskaya Gazeta.