Dmitry Rogozin unveils future space strategy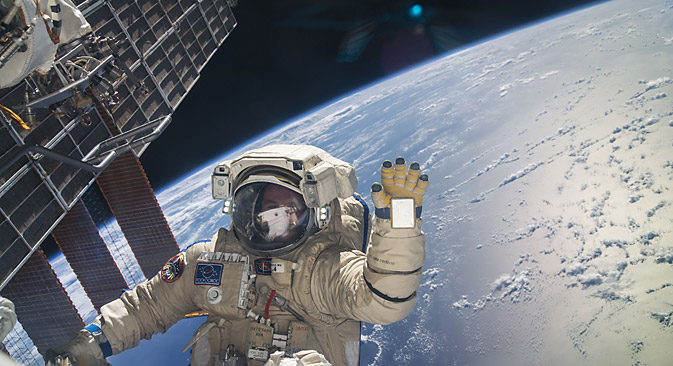 The first cosmonaut landings on the Moon are planned by 2030. Source: NASA
The new policy envisions creating a manned research and testing base on the Moon as a stepping-stone to deep space exploration, including missions to Mars and other planets.
Russia has largely finalized its concept for future space exploration. Its key tasks are: to expand presence in low near-earth orbits, explore and colonize the Moon, and start developing Mars and other planets of the Solar System. The strategy was outlined by Deputy Prime Minister Dmitry Rogozin in an article in Rossiyskaya Gazeta.
According to Rogozin, the current priorities of the Russian space industry should be the establishment of a space services market and advancement in the exploration and development of the resources of deep space.
A national project for deep space exploration could play an important part in this process, Rogozin said. The Russian Space Agency (Roscosmos), along with several ministries and in cooperation with the Russian Academy of Sciences and the state nuclear corporation Rosatom, have been instructed to draw up proposals on the viability of its implementation, he added.
The Moon as a laboratory for studying the universe
Rogozin continued: "Key areas of research and development under this national project will be the development of nuclear power units and plasma technologies for energy conversion, the development of biotechnologies, robotics and new materials."
"In addition, work is getting under way to identify technical options for a manned spacecraft based on a super-heavy carrier rocket for missions to the Moon and later to Mars," he added. Research is also being done into "creating powerful interorbital (interplanetary) tugs, which are essential for developing the Moon and exploring the planets of the Solar System."
Rogozin is convinced that the Moon is a key target for fundamental scientific research and the nearest source of extraterrestrial matter to Earth. Furthermore, it could become a platform for technological research and for testing new space systems.
As a longer-term objective of lunar development, Rogozin suggested the establishment of a man-tended Moon and first interplanetary laboratory, which could house "the tools and systems for studying the universe, lunar minerals, meteorites, as well as a test production of useful materials, gases, and water from regolith." The first cosmonaut landings on the Moon are planned by 2030, after which a man-tended lunar base will be deployed. The next stage of the plan envisages manned missions to asteroids and to Mars.
Russia to establish itself in near-earth orbits
Cosmonaut Sergei Krikalev says Russian plans of deep space exploration are not at all science fiction. He believes they would require a system of 'base camps' near the Moon and on the Moon itself, with in-built rescue capabilities both there and en route to the Earth.
"I think, ultimately, we shall have a base flying around the Earth, as a starting point for other missions," says Krikalev. "At the same time, we should not give up research in low orbits, where Russia should have a strategic base of its own. It will not only serve as a research station, but will also act as a launch and test base for preparing deep space missions, a workshop for assembling new spacecraft, servicing, adjusting satellites. Everything could be tested in a near-earth orbit and only then allowed to venture deeper into space."
Despite the government's ambitious plans, there are quite a few weak spots in the Russian space industry. One of them is the domestic production of top-quality electronics and components, Rogozin pointed out.
"In recent years, onboard relay systems of communications satellites have either been fully manufactured by foreign firms or have been assembled at Russian plants from foreign components. That is why the Federal Space Agency has authorized the Military-Industrial Commission to commission radiation-hardened electronics and components from domestic manufacturers," he added.
Commenting on NASA's decision to suspend cooperation with Russia, Rogozin said that these sanctions would help Russia to draw up a development strategy for manned space exploration independent from unreliable international partners.
Based on articles published by: Lenta.ru, ITAR-TASS, Aif.ru, Rossiyskaya Gazeta.
All rights reserved by Rossiyskaya Gazeta.