Lucrative Indo-Russian business deals on store in 2014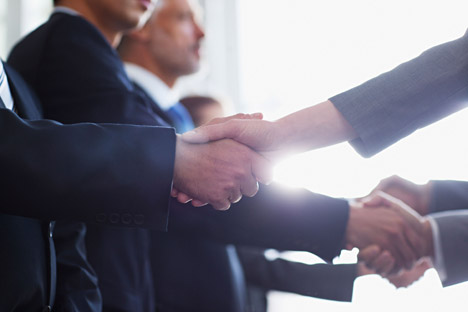 Russia and India are keen to expand cooperation. Source: Alamy / Legion Media
With stepped up energy and business ties, analysts see this being a milestone year for trade between the countries.
Russia and India are making a clear and concerted effort to increase bilateral trade with talks on the trans-Eurasian oil pipeline making serious headway. Many analysts believe 2014 could become a new milestone in the business relationship between the countries as it promises the renewal of a number of bilateral contracts. Energy has long been one of the areas with maximum potential between the two states. Four years ago, Moscow and New Delhi signed a roadmap for building up to 16 Russian-design power units in India.
Currently, India is looking at the construction of 19 nuclear power units with a combined capacity of 17,400 MW by 2017. Russia is set to help build two more units at the Kudankulam nuclear power plant.
"We have just concluded a round of talks in India," Rosatom State Corporation Director-General Sergei Kiriyenko said at an international forum on nuclear security last week.
Also, Igor Sechin, head of Rosneft, Russia's biggest oil company, led a delegation last month to meet India's Oil Secretary, Saurabh Chandra, seeking to expand ties with New Delhi. The Russian state oil major is offering India's Oil and Natural Gas Corp (ONGC) a stake in nine offshore oil and gas blocks in the Barents Sea and one in the Black Sea.
"India is a very important country for Russia," Igor Sechin said. "We have a very efficiently run project with ONGC...now we want to expand our cooperation. We are (also) looking at supplying crude oil to Indian refineries."
Currently, India does not have a firm contract to import crude oil from Russia, while it gets small volumes once in a while from ONGC's Sakhalin-1 project.
The defence industry interactions between Russia and India have led to an understanding that the emphasis is on the creation of joint ventures or licensed production. In 2013, India's import of Russian weapons reached $4.7 billion. Another industry which attracts India is computer-guided weapons, produced by the Russian Morinformsystem-Agat Concern.
First published by the Voice of Russia.
All rights reserved by Rossiyskaya Gazeta.